10.2 Review existing monitoring programs, fill monitoring gaps, identify pollution sources, and update pollutant load models
Key Message: Local scientists should collaborate with regional and local water and resource managers to review existing monitoring programs and address the remaining information and data gaps highlighted in this Playbook. Specific monitoring needs have been identified for atmospheric deposition, groundwater monitoring, reclaimed water used for irrigation, bioindicators, fertilizer sales, and nutrient modeling.
Importance
Existing water quality and quantity monitoring programs that provide the specific spatial and temporal information necessary to protect and improve water quality in Sarasota County are an ongoing need. Existing monitoring efforts need periodic evaluation for adequate spatial and temporal coverage and to ensure their design supports necessary assumptions for statistical analysis. Monitoring gaps, including nutrient loading from atmospheric deposition, groundwater, and reclaimed water used for irrigation, should be addressed. New bioindicators of water quality can provide important new insights for water quality protection. For example, monitoring of spatial and temporal changes in macroalgae biomass could enhance understanding of the fate of nutrients and dynamics associated with the storage and episodic release of nutrients. Monitoring of fish populations may be an important bioindicator of water quality in tidal creeks. Major sources of nutrients should be reevaluated, and pollutant load models updated to reflect our latest knowledge, and support efforts to target and prioritize nutrient reduction.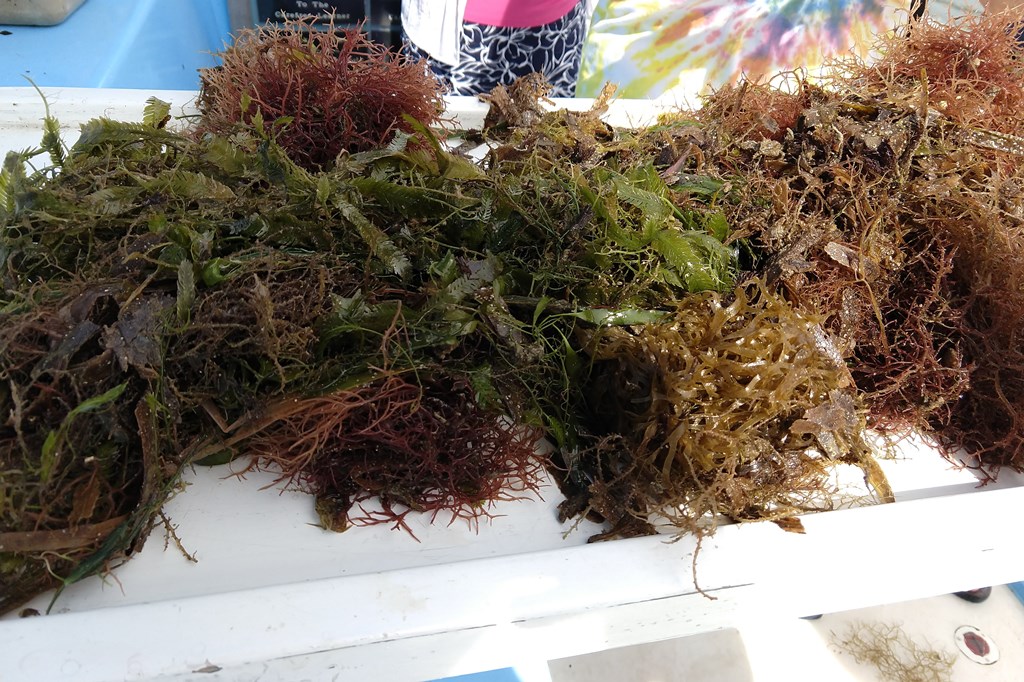 Macroalgae sampling in Sarasota Bay. Source: Sarasota Bay Estuary Program
Overview
Monitoring programs are periodically assessed and modified to better reflect priorities and needs of water quality managers. These reviews are typically conducted by the organizations responsible for collecting, analyzing, and reporting water data, including Sarasota County Government, Southwest Florida Water Management District (SWFWMD), U.S. Geological Survey (USGS), and the Florida Department of Environmental Protection (FDEP). In addition, Sarasota Bay Estuary Program (SBEP) and Coastal & Heartland National Estuary Partnership (CHNEP) convene technical advisory and management committees to discuss monitoring programs and produce a Monitoring Strategy. CHNEP recently updated its Monitoring Strategy (CHNEP 2020) in conjunction with revision of its Comprehensive Conservation and Management Plan (CHNEP 2019). The Regional Ambient Monitoring Program (RAMP) maintains standardized sampling and laboratory analysis protocols and coordinates sampling among agencies. The Sarasota County Water Atlas and the CHNEP Water Atlas continuously improve the interface and functionality of their sites to better convey status and trends.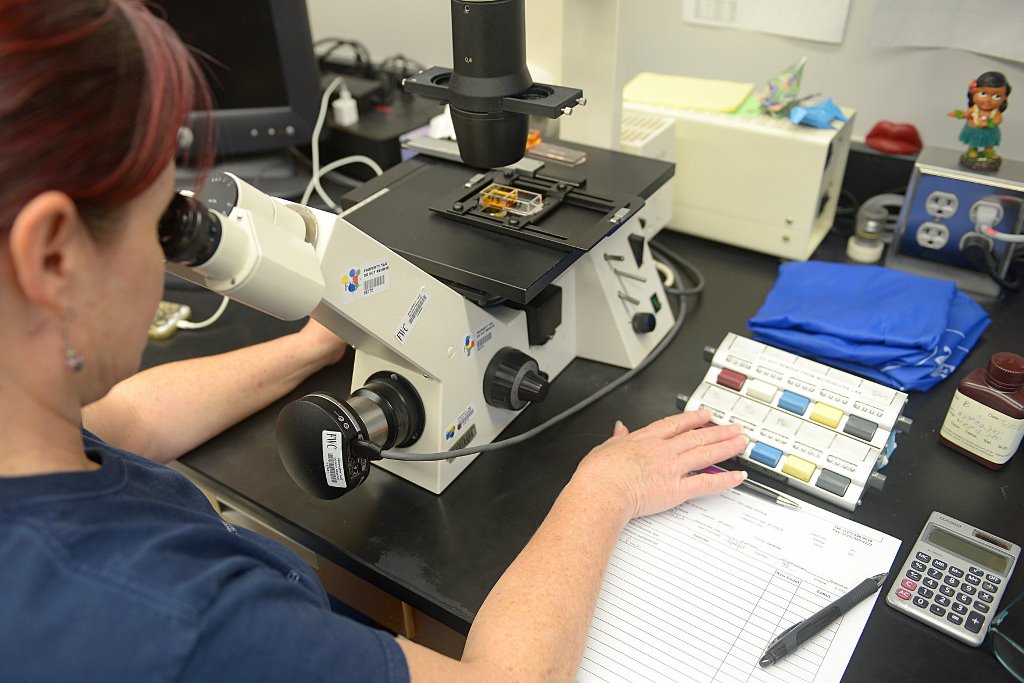 Water quality analysis includes microscopic examination of algae. Source: Florida Fish and Wildlife Research Institute
Additional monitoring to address remaining gaps could provide critical information to inform nutrient management in Sarasota County.
We have a limited understanding of the contribution of atmospheric nitrogen deposition to overall pollutant loads in Sarasota County water bodies, primarily due to lack of optimally sited monitoring stations (see Chapter 5.1).
We also have a limited understanding of groundwater nutrient concentrations, rates of flow, denitrification potential, and hotspots. Groundwater carries nutrient pollution from central wastewater conveyance, septic systems, and other sources and can discharge it into surface waters (see Chapter 2.1).
Reclaimed water can contain high nutrient concentrations, especially if originating in wastewater treatment facilities with only secondary treatment technology. Increased use of treated wastewater for irrigation is adding nutrients to landscapes in addition to those supplied by fertilizer. We do not monitor the application of these nutrients, or their fate in the watershed (see Chapter 1.2 and Chapter 4.5).
Macroalgae are important bioindicators of aquatic nutrients. Macroalgae can absorb and hold nutrients until sudden mortality events, like cold snaps, release them all at once. This mechanism is thought to significantly contribute to degradation of water quality in the Indian River Lagoon on Florida's east coast. We do not monitor macroalgae biomass, so have little understanding of the population dynamics of macroalgae or the fate of nutrients held by them.
Fish are an important bioindicator of water quality. Recent work to establish numeric nutrient criteria for tidal creeks suggest that numeric criteria alone may not be sufficient to understand the water quality of creeks. Monitoring the suitability of creeks for use by fish may be a more useful measure (see Chapter 8.2).
Approach
Sarasota County Government, SWFWMD, USGS, and FDEP periodically assess their monitoring programs. In addition, SBEP and CHNEP convene technical advisory and management committees to discuss monitoring in their watersheds. As opportunities arise, local scientists and managers should participate in these reviews. Monitoring gaps should be addressed, including:
Resources
Sarasota County Stormwater Environmental Utility
USGS
FDEP
SWFWMD
Sarasota Bay Estuary Program
Coastal & Heartland National Estuary Partnership
Sarasota County Water Atlas
Status
Implementation
Performance Measures
Number of monitoring programs reviewed
Number of groundwater quality monitoring stations in Sarasota County
Number of atmospheric nitrogen deposition monitoring stations in Sarasota County
Establishment of a macroalgae monitoring program
Establishment of a fish monitoring program in tidal creeks
Establishment of a dashboard detailing fertilizer sales in Sarasota County
Updated nutrient loading model
Experts or Leads
John Ryan, Interim Stormwater Manager, Sarasota County Stormwater Environmental Utility; Chris Anastasiou, SWFWMD; Jay Leverone, Program scientists, Sarasota Bay Estuary Program; Jennifer Hecker, Director, Coastal & Heartland National Estuary Partnership
Cost Estimate
$100,000-$1,000,000
Related Activities
Chapter 1.2, Chapter 2.1, Chapter 4.2, Chapter 4.5, Chapter 5.1, Chapter 8.2, Chapter 9.1
Other Monitoring Activities
[dipi_masonry_gallery images="401,545,447" columns="3" disabled_on="off|off|on" _builder_version="4.4.8" max_width="100%" max_width_tablet="50%" max_width_phone="65%" max_width_last_edited="on|desktop" module_alignment_tablet="center" module_alignment_phone="center"...