5.2 Educate the public about the link between air and water quality and choices to reduce nitrogen oxide emissions
Key Message: There is little awareness among the general public that air quality affects water quality. Improved public understanding of the link between air quality, water quality, and environmental and human health – especially with regard to motor vehicles and lawn care equipment – may be a catalyst for better transportation planning and lead to greater consumer adoption of clean alternatives.
Importance
There is little recognition among the general public that air quality affects water quality. Specifically, few people know that nitrogen compounds from power plants and gasoline combustion engines can return to earth by way of rain and dust, causing water pollution (see Chapter 5.1). Education about atmospheric deposition, coupled with solutions for reducing emissions—especially from local mobile sources—is needed to motivate homeowners and business owners to support emission-control strategies.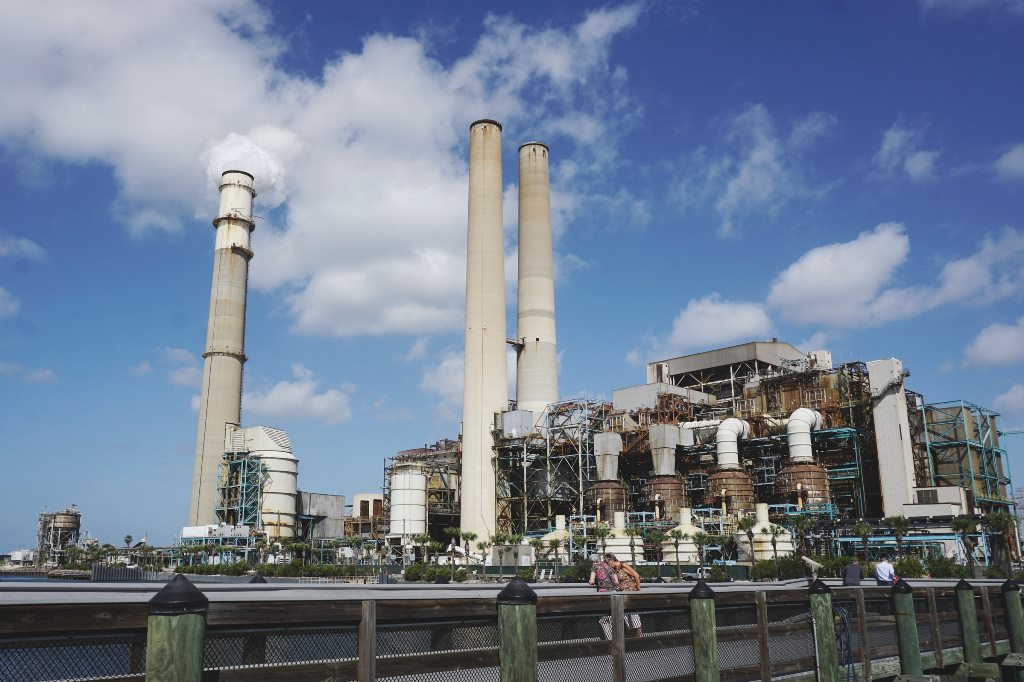 Tampa Electric Company's Big Bend Power Station is a major coal-fired power plant power plant in Tampa that contributes to emissions in the Sarasota area airshed. Source: Tampa Bay Estuary Program
Reducing local emissions from vehicles and outdoor machinery may make a bigger difference to local water quality than reducing power plant emissions (Poor et al., 2013b). Public health also would benefit, especially considering the prevalent use of gas-powered lawn maintenance equipment around residential, school, and congested urban areas. Landscape maintenance workers are commonly exposed to high levels of toxic emissions from their power equipment. Improved public understanding of the link between air quality, water quality, and environmental and human health may catalyze support for improved development and transportation planning, expanded use of electric vehicles and solar energy, and strategies to protect public health and mitigate climate change, since the atmospheric warming effect of nitrous oxide is 298 times more powerful than carbon dioxide.
Overview
Clean Vehicles
America's fleet of cars and trucks is becoming more energy efficient as the shift from fossil fuels to electric power using cleaner fuels continues. Florida's electric grid is powered 74% by natural gas, 12% nuclear, and 9% coal (USDE Alternative Fuels Data Center), which on balance is cleaner than tailpipe emissions from gasoline powered vehicles. Progress continues in developing hybrid, battery, and fuel-cell electric car technology. Sales of all types of electric vehicles (EV) in Florida more than doubled from 2017 to 2018, second only to California (AAM 2019). More than 31,000 EVs were registered in Sarasota County in 2018, comprising about 9% of all locally registered autos and pickups (FLHSMV). Currently, less than 10% of Sarasota County Government's vehicle fleet is electric/hybrid, but that proportion is expected to grow with the addition of all electric vehicles.
The City of Sarasota set a goal for 90% of all new city vehicle purchases or leases to be electric by mid-2024.
UF/IFAS Extension Sarasota County has implemented various electric vehicle (EV) initiatives since 2005. Supported by Board of County Commission resolutions, initiatives include online materials, classes, electric vehicle events, and a rebate program for businesses, non-profits, and government organizations that install charging stations. Education is provided about charging infrastructure, what EVs are and why they are important, tools for purchasing, emissions, and economic savings. Barriers to adoption include high costs associated with purchasing EVs and misconceptions about the relative impact of tailpipe emissions versus power plant emissions.
From 2017-2019, the City of Sarasota subsidized a privately operated electric ride service (i-Ride/Gotcha) offering reduced fares for trips within the city. This service gave residents and visitors direct exposure to alternative, cleaner transportation options. Currently the city is updating its Transportation Master Plan and assessing various clean/alternative transportation options. All of these efforts involve direct engagement or discussion with the public about clean machines, but do not include formal education about the connection between emissions and water quality.
Momentum is building for lower-emission transportation. The City of Venice is recognized by the League of American Bicyclists as a "Silver Bicycle Friendly Community." The City of Sarasota is preparing its first citywide Master Transportation Plan with a specific focus on expanding alternative and green mobility options. The Sarasota/Manatee Metropolitan Planning Organization (MPO) is also updating its Long-Range Transportation Plan with outreach events focused on potential improvements to bike, pedestrian, and public transit infrastructure.
Clean Outdoor Equipment and Vessels
Emission standards reduce the hydrocarbon and nitrogen oxide emissions of outdoor equipment by 35% and small boat engines by 60% (EPA 2008). Yet, boat engines and gas-powered outdoor equipment still emit more pollution than automobiles. A typical 30 cc 4-stroke handheld leaf blower emits six times more nitrogen oxides, 13 times more carbon dioxide, and 36 times more non-methane hydrocarbons than a Ford F-150 pickup truck. Operating a leaf blower for 30 minutes produces NOx emissions equal to driving an F-150 truck more than 68 miles (Kavanagh 2011). Operating a commercial lawn mower for one hour emits as much total air pollution as driving a Toyota Camry about 300 miles (CARB 2019). Florida has more grounds maintenance workers and emissions from gas-powered outdoor equipment per capita than California, Illinois, New York, and Texas (Banks and McConnell, 2015). With 23,000 registered watercraft in Sarasota County generating emissions at the water's surface, a transition to clean vessels would directly improve local water quality.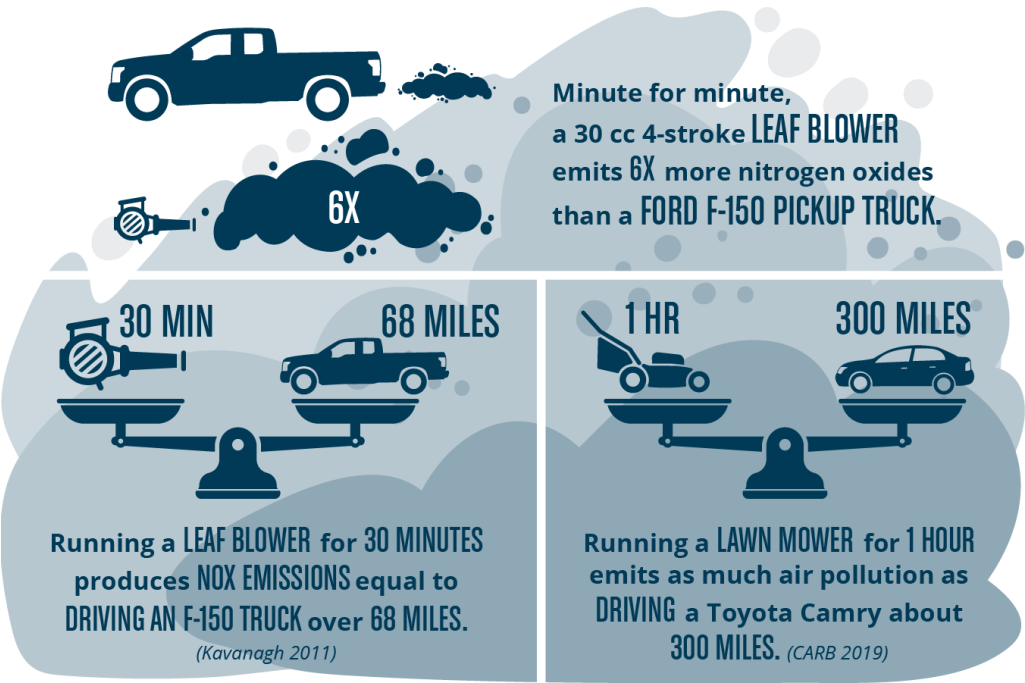 Figure 5.2.1. Emissions of outdoor gas-powered machinery versus gas-powered vehicles.
Widespread use of electric powered outdoor equipment and watercraft lags behind motor vehicles. More than 100 companies manufacture electric boats, ships, and motors, with the largest sales growth in recreational boats. Options for professional- and consumer-grade cordless electric landscaping equipment are growing. More than 50 different electric lawnmower options were available in 2019, including commercial riders and tractors. While life-cycle costs are comparable between electric and gas-powered equipment, higher purchase cost and shorter continuous use intervals are barriers to adoption.
Currently, the Green Industries Best Management Practices (GI-BMP) training required for commercial landscapers in Sarasota County does not address atmospheric deposition of nitrogen from lawn equipment emissions. Florida-Friendly Landscaping™ (FFL) principles that recommend less lawn should also reduce emissions from gas-powered landscaping equipment. However, most FFL educational materials do not call attention directly to this benefit. In the past, Sarasota County and the Sarasota Bay Estuary Program distributed a brochure called "Landscaping to Save Energy" that provided facts about landscape equipment emissions and encouraged energy-saving practices. This publication is no longer in active circulation.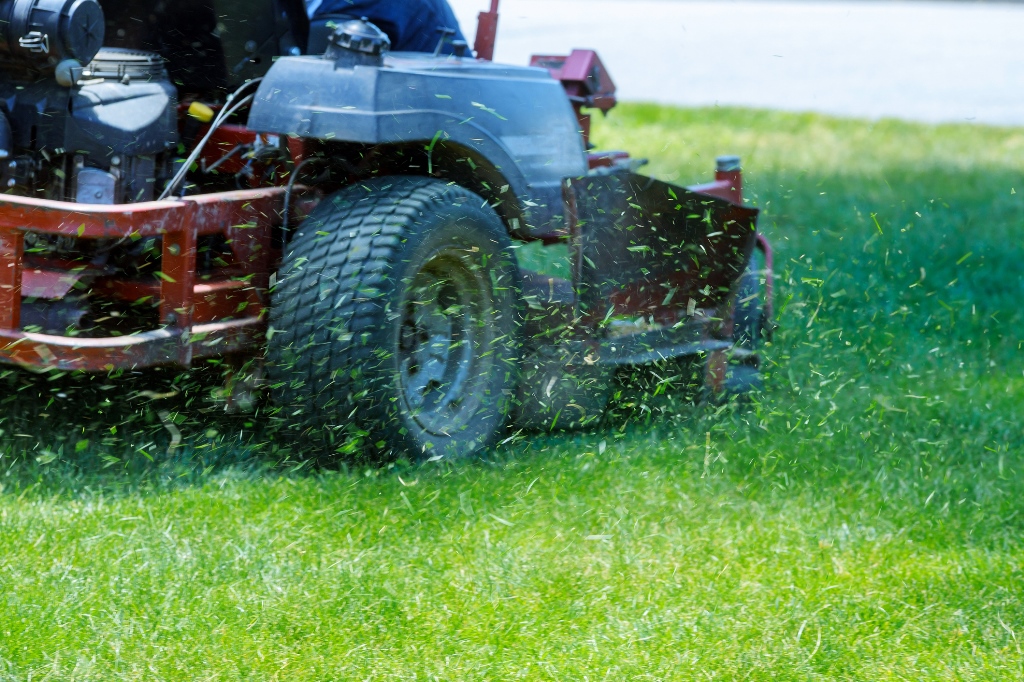 Gas-powered lawn mowers and other outdoor equipment contribute significantly to ground level emissions. Source: Ungvar
Approach
Continued local EV initiatives that offer online materials, classes, events, and rebate programs, along with improving options and affordability of EVs can increase the percentage of EVs on local roads. The cost-benefit ratios of rebate programs for air quality improvements (i.e., program cost per pounds of nitrogen avoided) should be based on local power supply and charging scenarios. Implementing a program like Drive Electric Orlando that provides customers who choose an EV rental car with VIP perks like free parking, free valet, and free charging could reduce emissions from visitors and provide extended test-drive opportunities to residents. Similar incentives can be applied to boat rentals and boat-sharing clubs. Supporting alternatives like walking, biking, or ridesharing through multi-use trails, safe street design and mixed-use building codes that facilitate walkable communities can also reduce overall vehicle emissions.
Integrating and tracking emissions from landscaping equipment, in addition to transportation, in greenhouse gas inventories/updates for Sarasota County can fill data gaps needed for effective education. Incorporating information on nutrient loading and air pollution associated with lawn equipment emissions into the mandatory GI-BMP certification program for commercial landscapers can be an effective way to continuously update industry members. Working with suppliers to promote sales and rentals of electric landscaping equipment by offering trial periods, rebates, or trade-ins can incentivize lawn professionals and homeowners to purchase cleaner machines. An example of a successful program is the "Mow Down Air Pollution" campaign in Sacramento, California (CARB 2004). Continued promotion of FFL to replace turfgrass with groundcovers and mulched areas can reduce the need for or frequency of landscaping equipment use.
Education and outreach that combines water and air quality, health, economic, and climate change benefits of clean landscaping and transportation can broaden public awareness and action to switch to clean machines. For example, a targeted "Spare the Air" campaign to reduce use of gas-powered equipment around schools, hospitals, and urban parks could connect the public's concerns about health and the environment to local air quality.
Resources
City of Sarasota GHG Inventory
Sarasota County GHG Inventory
SBEP Landscaping to Save Energy brochure
Status
Implementation – UF/IFAS Extension Sarasota County, Sarasota Bay Estuary Program, City of Sarasota
Performance Measure
Expanded education curriculum in GI-BMP and FFL programs to include lawn equipment emissions
Increased number of electric vehicles or charging infrastructure in the Sarasota County area
Number of organizations installing charging stations
Increased purchases of non-gas-powered landscaping equipment
Pre/post surveys regarding understanding of air-water connections related to emissions
Experts or Leads
Sara Kane, UF/IFAS Extension Sarasota County; Don Rainey, UF/IFAS; Marguerite Beckford, UF/IFAS Extension Sarasota County; Darcy Young, Sarasota Bay Estuary Program; Colleen McGue, City of Sarasota; Darlene Culpepper, City of Venice
Cost Estimate
$50,000-$100,000
Related Activities
Other Atmospheric Deposition Activities
[dipi_masonry_gallery images="414,545,445" columns="3" disabled_on="off|off|on" _builder_version="4.4.8" max_width="100%" max_width_tablet="50%" max_width_phone="65%" max_width_last_edited="on|desktop" module_alignment_tablet="center" module_alignment_phone="center"...