4.6 Deliver targeted education and resources to farmers and ranchers
Key Message: Sarasota County has a strong agricultural heritage founded on cattle ranching and now diversified into multiple commodities, including citrus, sod and ornamental plant nurseries. About 46% of Sarasota County's registered and eligible farms voluntarily participate in agricultural Best Management Practices to reduce nutrient runoff and better manage water use. Additional incentives are needed to encourage more farms, including small crop, animal farms and hobbyists, to embrace sustainable practices.
Importance
Runoff from agricultural uses can carry excess nutrients from fertilizer and animal waste to water bodies. Implementation of agricultural best management practices (BMPs) helps limit nutrient runoff by more precisely and efficiently managing nutrient and water budgets. Crop-specific fertilizer formulations applied with GPS-guided equipment help ensure the right fertilizer is applied at the right rate in the right place at the right time to maximize uptake by plants. Cell phone apps that control irrigation, the use of cover crops and no-till crops, tailwater recovery, and adaptive management of livestock and their waste are also effective BMPs. Producers enrolled in BMP programs operate more efficiently to reduce their costs and are eligible for state agency cost-sharing for certain practices, while helping to protect water quality. Expanding targeted BMP education and resources for agricultural producers, particularly around sustainable agriculture, is an investment that can help preserve water quality and sustain local agriculture for the preservation of heritage, a diversified economy, and a local source of food.
Overview
Sarasota County's agricultural footprint is relatively small, with about 20% (71,165 acres) of its land area under agricultural production. Of the 292 farms in the county, 40% are smaller than 10 acres and 91% generate less than $100,000 in annual sales (USDA 2017). The majority (55%) are cow/calf operations, sometimes combined with citrus, sod, and nursery production. About 11,000 acres are cultivated as croplands, including hay, citrus, and tomatoes.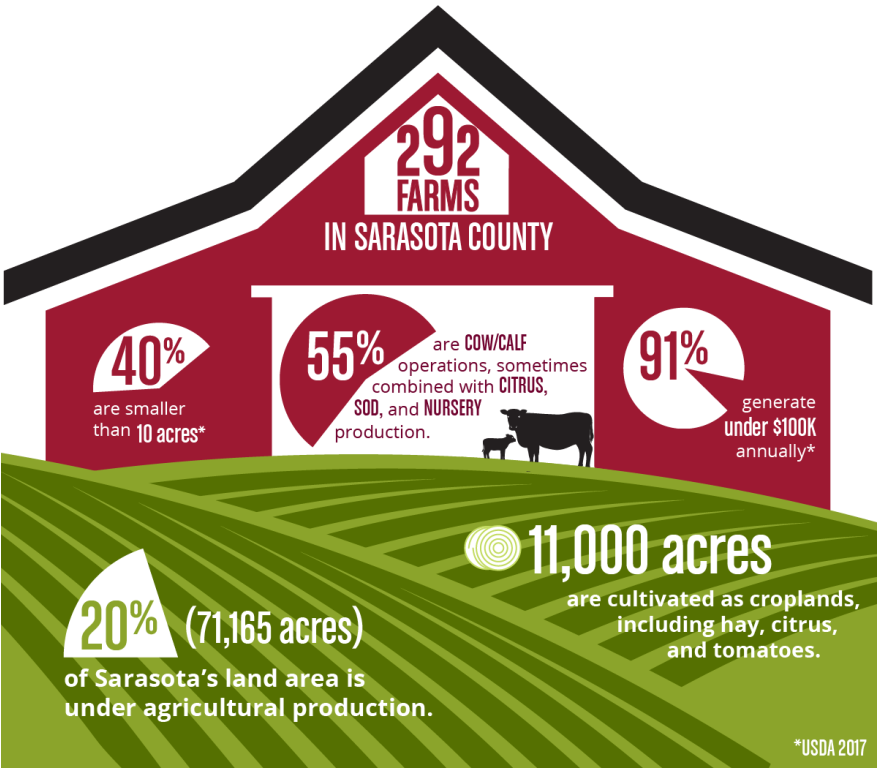 Figure 4.6.1. Sarasota County agriculture by the numbers. Source: United States Department of Agriculture
While farms are exempted from local urban fertilizer ordinances, farmers, ranchers, and nursery owners voluntarily adopt BMPs to reduce fertilizer and water use, and otherwise manage the landscape to help protect water resources. The Fertilizer Institute's 4R Nutrient Stewardship program provides research, training, and advocacy for using the right fertilizer, at the right rate, at the right time, in the right place.
The Florida Department of Agriculture and Consumer Services (FDACS) has developed BMP manuals for all major agricultural commodities produced in Sarasota County. BMPs are based on research and monitoring, and manuals are reviewed every five years at a minimum to incorporate new practices and new technologies. A Small Farms BMP manual is needed due to increasing interest in small farm practices, including hobby farmers and ranchettes (5-10 acres), where overgrazing and lack of manure management are common.
FDACS conducts educational outreach via surveys, workshops, and site visits to encourage farmers and ranchers to enroll in the BMP program and to evaluate implementation. FDACS also coordinates with UF/IFAS Extension agents to provide outreach to both commercial and non-commercial operators to encourage BMP adoption. Enrollment in the FDACS BMP program is voluntary, unless a farm is located in a watershed with a Basin Management Action Plan (BMAP) mandated by the FDEP to address water quality impairments. In that case, the farm must either implement the FDACS-adopted BMPs or conduct water quality monitoring to show compliance. There are currently no BMAP areas in Sarasota County. The Clean Waterways Act (2020) requires FDACS to conduct bi-annual inspections, and provide to the Florida Department of Environmental Protection (FDEP) fertilization and nutrient records from each agricultural producer enrolled in the BMP program.
FDACS and Water Management Districts incentivize adoption of farm BMPs through cost-share partnerships such as the Southwest Florida Water Management District's Facilitating Agricultural Resource Management Systems (FARMS) program making it more feasible for farmers to implement new technologies. The mini-FARMS program is a partnership of FDACS and SWFWMD that reimburses small farmers for water-conserving BMP projects, often tied to fertilizer reduction. The Florida Farm Bureau's County Alliance for Responsible Environmental Stewardship (CARES) program publicly recognizes farmers and ranchers who have implemented BMPs. Investing in BMPs and land management can be a difficult trade-off for farmers and ranchers whose land may soon transition to development use.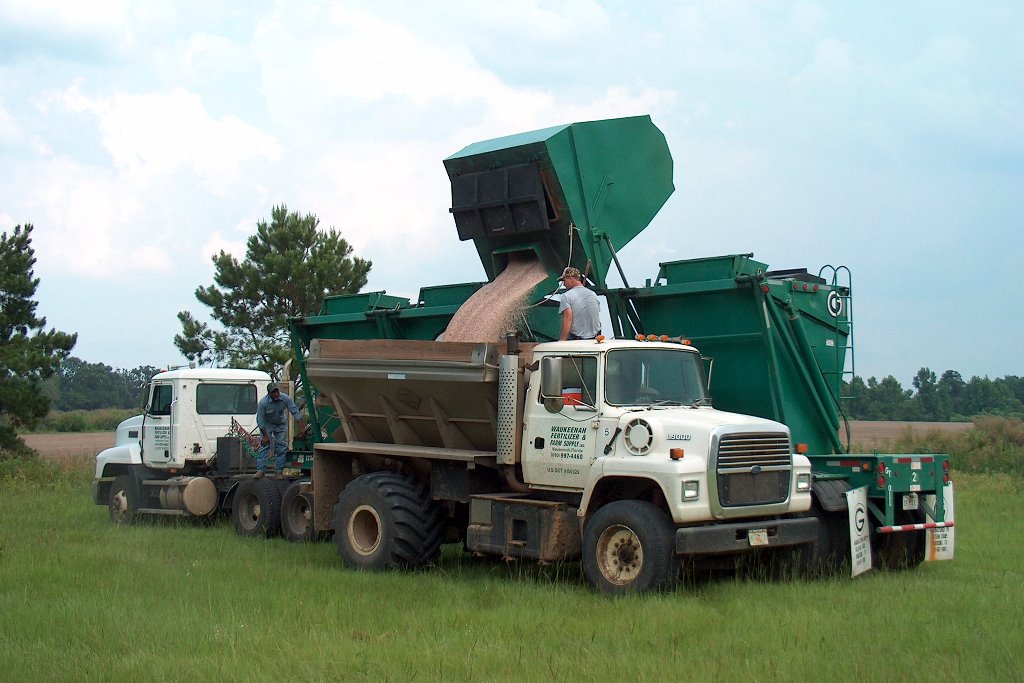 Loading of seed and fertilizer for application to pastures. Source: Florida Fish and Wildlife
Approach
About 46,000 acres (46%) of Sarasota County's registered and eligible farms voluntarily participate in FDACS BMP programs specific to their operations. The vast majority (95%) of enrolled lands are cow/calf operations. Indeed, the largest farming operations in Sarasota County are cattle ranches owned and operated by some of Sarasota's oldest families who have adopted land stewardship strategies such as rotational grazing and manure management that reduce or eliminate the need for fertilizer.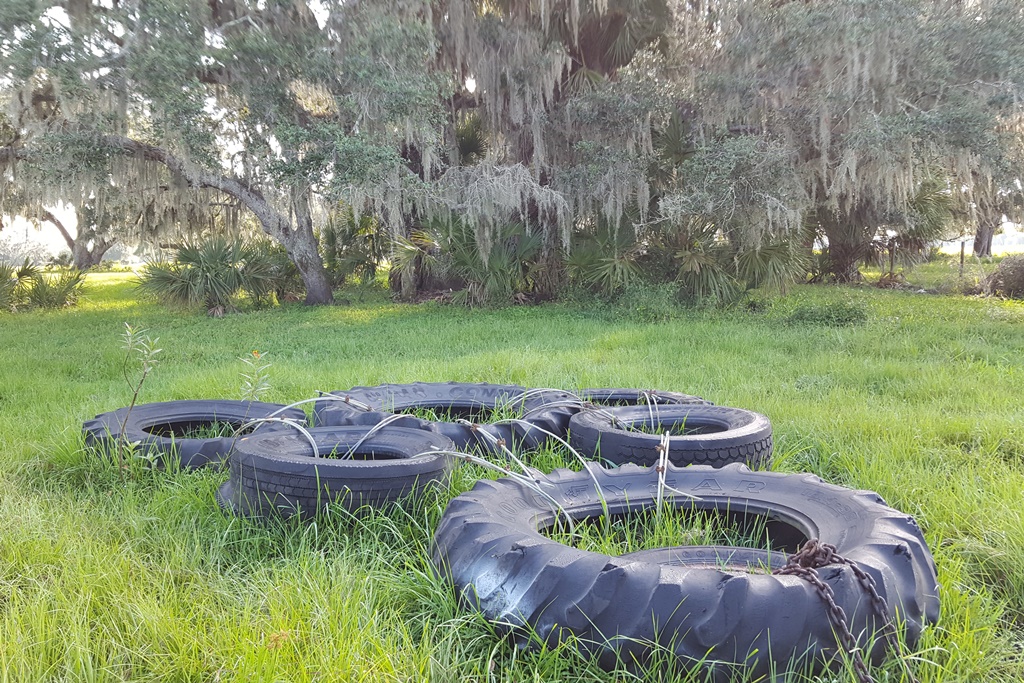 Towed behind a truck or tractor, this traditional "fertilizer spreader" is used by Sarasota ranchers to redistribute cow manure across pastures. Source: Stephen Suau
Fewer than 2,000 acres of crop farms are enrolled in the FDACS BMP program, including row/field crops, sod, citrus, and nurseries. Only about a third of small farms under 10 acres are enrolled. Local UF/IFAS Extension agents, who regularly share information and resources with farmers and ranchers, could expand outreach to small crop and animal farms and hobbyists to encourage BMP enrollment. In addition to recognition through the CARES program, additional incentives might include participation in "Fresh From Florida" marketing or State Farmers Markets reserved for products produced under FDACS-approved BMPs.
Opportunities exist to improve overall farming practices for better alignment with natural nutrient and water cycling, adaptation to environmental change, and profitability. Florida soils are naturally sandy with low nutrient-holding capacity, so building the organic content of soils is challenging. Working with farmers and ranchers of the Florida Climate-Smart Agricultural Working Group, UF/IFAS could develop workshops and consultations to provide agricultural producers with educational resources and soil health services to help initiate and accelerate soil regeneration. The program, incentivized with scholarships and/or cost-sharing (like the Kiss The Ground Farmland Program), could advance ecological farming principles and practices.
Sustainable agriculture practices include, including no-till agriculture, diverse cover crops, tree intercropping, silvopasture, adaptive managed grazing, and composting (see Chapter 4.7).
Over time, these practices increase soil organic matter, fertility, texture, water retention, and healthy microbial communities, while addressing common concerns about infertility, pests, drought, weeds, and yields. This in turn reduces the necessity and expense of synthetic fertilizers, pesticides, herbicides, and irrigation. In addition to protecting water quality, these practices sequester carbon dioxide and support the health of humans and wildlife.
Resources
Status
Implementation (FDACS BMP Program); No activity (Sustainable Agriculture BMP program)
Performance Measure
Number/acres of Sarasota County farms enrolled in FDACS BMP program and/or adopting USDA-NRCS BMPs
Establishment of a Sustainable Agriculture BMP program
Experts or Leads
Patricia Hobson, FDACS; Bill Bartnick, FDACS; Israel Vega-Marrero, USDA; Sarah Bostick, UF/IFAS Extension Sarasota County; Alan Jones, Jones Potato Farm; Jim Strickland, Blackbeard's Ranch and Co-Chair Florida Climate-Smart Agricultural Working Group; Tiffany Bailey, Bayside Sod and Honeyside Farms
Cost Estimate
$50,000-$100,000
Related Activities
Other Fertilizer & Soil Activities
[dipi_masonry_gallery images="421,545,445" columns="3" disabled_on="off|off|on" _builder_version="4.4.8" max_width="100%" max_width_tablet="50%" max_width_phone="65%" max_width_last_edited="on|desktop" module_alignment_tablet="center" module_alignment_phone="center"...