8.4 Support urban forestation programs
Key Message: Trees intercept and promote percolation of rainfall, reducing runoff. Policies that protect mature native trees, and encourage and incentivize tree plantings on both private and public property, can boost reforestation of urban areas with both economic and environmental dividends.
Importance
Increasing tree cover can improve water quality in areas of dense development where acquisition and protection of large tracts of natural lands is not possible. Tree canopies intercept rainfall and promote percolation into the ground, rather than contributing to nutrient-rich stormwater runoff. Urban forests are a first line of defense for improved water quality and water conservation and provide health and economic dividends. The National Association of Realtors and Urban Land Institute have shown that property values are higher within a one-mile walk of public green space (ULI 2018).
Overview
Sarasota County and local municipal governments encourage residents to plant native trees. For example, UF/IFAS Extension Sarasota County gives trees away at an annual Arbor Day event. Since 2016, the City of Sarasota has partnered with the Arbor Day Foundation to give away 200 trees annually through the Foundation's Community Canopy Program. Under a new pilot program, the City of Sarasota will reimburse homeowners up to $500 for a licensed landscape professional to plant and maintain mature trees in or near the right-of-way. The program is funded in part by fees from tree removal permits.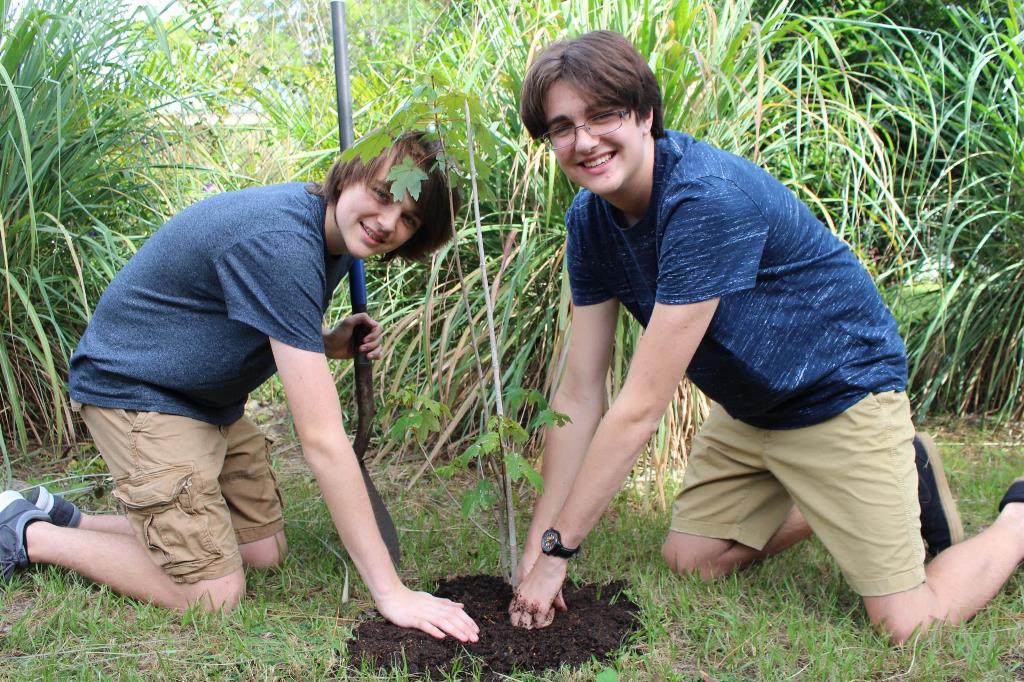 Arbor Day tree planting. Source: City of Sarasota
In a large-scale urban forestation project, Venice Area Beautification, Inc (VABI) and the Conservation Foundation of the Gulf Coast aim to reforest 33 acres extending 1.75 miles along the former CSX Railroad tracks in the City of Venice. As of January 2019, more than 600 trees and understory plants have been installed.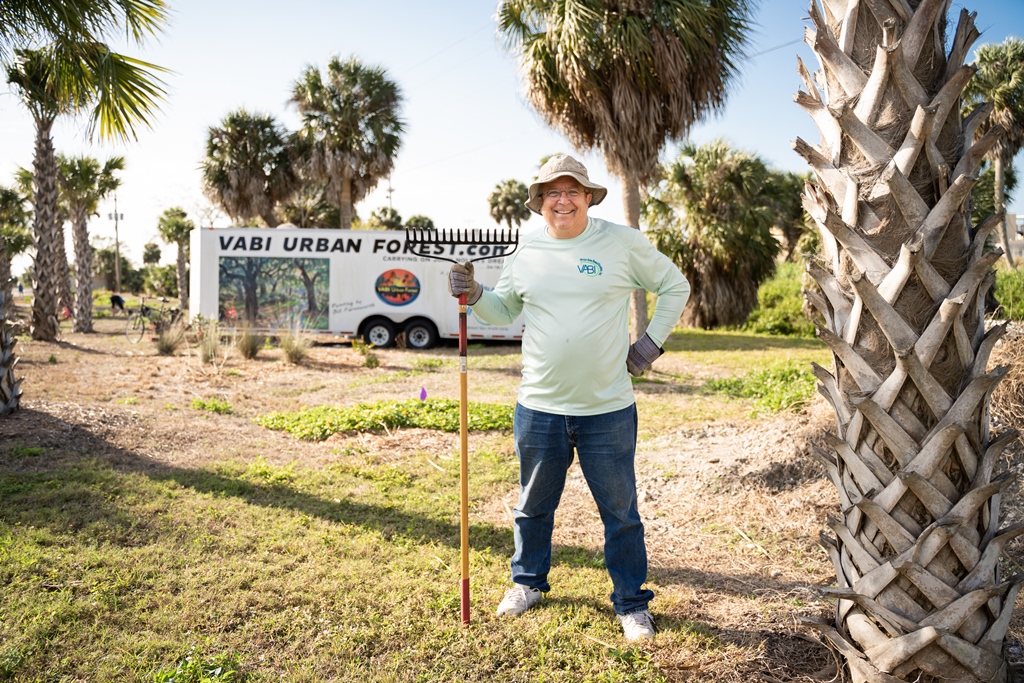 Venice Area Beautification, Inc and Conservation Foundation of the Gulf Coast are working to reforest a barren industrial corridor adjacent to the Intracoastal Waterway in Venice. Source: Gulf Coast Community Foundation
Sarasota County and local municipal ordinances protect the urban tree canopy by regulating tree removal, especially mature "grand trees." Projects that remove trees are required to replace them though it may take many years to achieve the beneficial canopy. Some grand trees require fees and special permits to remove. The City of Venice plans to increase its tree canopy to 30% through a new ordinance that offers tax breaks to residents who keep large trees on their property.
In 2019, the Florida Legislature adopted F.S. 163.045 preempting local governments from regulating the removal, replanting, pruning, or trimming of a tree on private property if a certified arborist or licensed landscape architect determines the tree poses a danger. The law does not apply to commercial property or undeveloped land and does not override local authority for mangrove protections. It is intended to preserve a homeowner's right to safety and property protection, especially as a matter of storm preparation and post-disaster cleanup. The new law enables residential property owners to bypass city and county regulations to remove a tree they perceive as a threat to safety. However, there are questions about whether a Florida landscape architect license or International Society of Arborist (ISA) certification alone is sufficient qualification to perform a tree risk assessment. Furthermore, the statute does not specify any standard for retention and disposition of documentation on the condition of the tree requiring removal.
Approach
Consider reducing property tax and/or development fees for preserving large trees and tree clusters.
Advocate for repeal of or amendment to F.S. 163.045 to require documentation from an ISA certified arborist with a Tree Risk Assessment Qualification (TRAQ) to demonstrate professional knowledge in tree risk assessment. Furthermore, the statute should be amended to include specific documentation requirements, including use of the ISA Risk Assessment Form and public access to documentation.
Support capacity for governmental and non-governmental native tree plantings (see Chapter 9.3). Small grant programs of approximately $400 per tree should include a professional consultation to determine the right tree for the right place and to advise on proper early care. For instance, the non-profit Urban Releaf Program in Oakland, California provides trees and assistance to homeowners, and employs at-risk youth and previously incarcerated adults in program implementation.
Resources
Status
Implementation
Performance Measure
Strategic increase in urban tree cover
Experts or Leads
Venice Area Beautification, Inc; Christine Johnson, Conservation Foundation of the Gulf Coast; Mark Miller, City of Sarasota Senior Arborist; Jim Yelverton, City of Venice Arborist and Tree Program Administrator; Rachel Herman, Staff Lead Sarasota County Tree Advisory Committee
Cost Estimate
$100,000-$1,000,000
Related Activities
Other Habitat and Wildlife Activities
[dipi_masonry_gallery images="408,545,446" columns="3" disabled_on="off|off|on" _builder_version="4.4.8" max_width="100%" max_width_tablet="50%" max_width_phone="65%" max_width_last_edited="on|desktop" module_alignment_tablet="center" module_alignment_phone="center"...