9.4 Support a common publicly accessible website for data storage, visualization, and information sharing
Key Message: The Water Atlas websites for Sarasota County and the Coastal and Heartland National Estuary Partnership are a valuable but underutilized resource for collecting and conveying a variety of data to citizens, scientists, resource managers and users, and policymakers. These platforms are deserving of ongoing support and additional marketing to increase use of the Atlases.
Importance
Water quality management requires an accurate and current understanding of water quality status and trends. Providing access to quality assured and controlled real-time and historic water quality data helps scientists and managers identify water quality problems, develop pollutant load limits, develop management plans, and evaluate the effectiveness of management actions. Providing public access to this same information through simple easy-to-use analytical tools can make water quality status and trends easy to visualize and understand. A clearinghouse for historical, educational, recreational, and scientific information, upcoming events and volunteer opportunities is important for organizing community action and generating support for water quality improvement.
Overview
Managed by the University of South Florida, the Water Atlas provides continuous access to water quality data and other technical information for area scientists, resource managers and users, elected officials, and the public. The Water Atlas combines a user-friendly interface with advanced geographical information systems (GIS) and analysis tools to share, analyze, and display water quality data. Additional components include access to educational materials, reports and studies, a calendar of water-related events, and volunteer opportunities.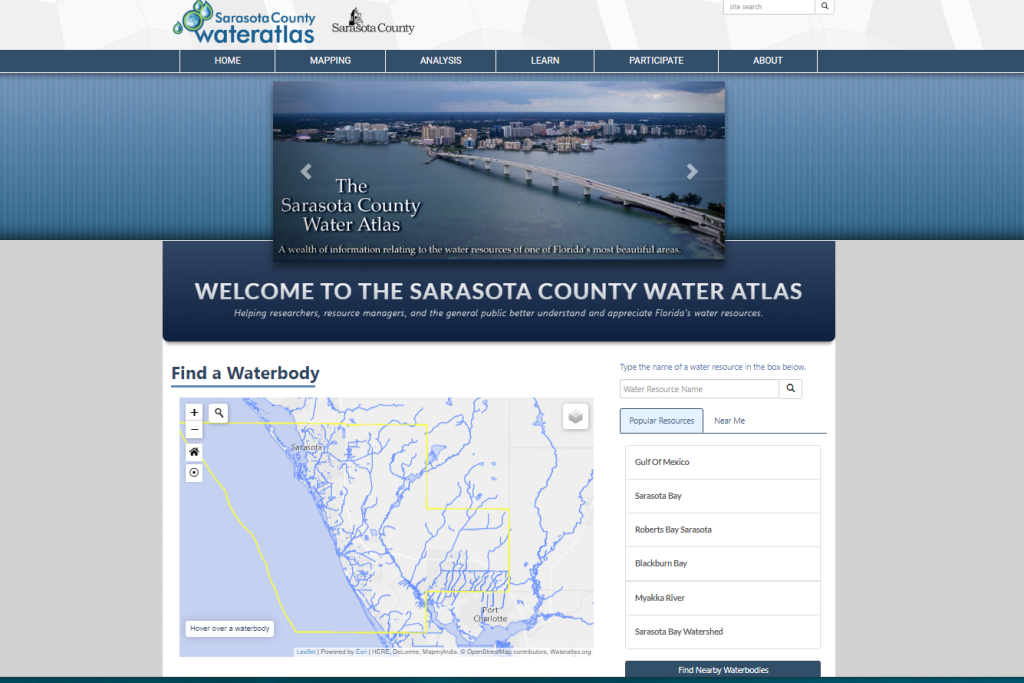 The Sarasota Water Atlas website landing page is designed to facilitate the work of scientists, water resource managers and the interested public. Source: Sarasota Water Atlas
The Water Atlas is a coordinated platform of individual Water Atlas websites focused on the priority waters of sponsoring communities. Waters in the Sarasota area are covered by the Sarasota County Water Atlas and the Coastal & Heartland National Estuary Partnership (CHNEP) Water Atlas. These websites are sponsored by Sarasota County and CHNEP, respectively.
Key features of the Sarasota County Water Atlas and CHNEP Water Atlas include:
Data Download provides access to water quality, hydrology, and rainfall data by direct download or by online visualization. https://sarasota.wateratlas.usf.edu/datadownload/Default.aspx
Water Quality Contour Mapping Tool displays bay water quality trends on a monthly basis over a ten-year period.
Real Time Data Mapper displays real-time data from monitoring stations throughout Sarasota County, including rainfall, water flow, water levels, water quality, and weather.
Bay Conditions reviews three indicators of nutrient pollution (chlorophyll-a, nitrogen, and phosphorus) for Sarasota County's eight major bay segments. It provides a quick assessment of whether each bay is meeting its management targets and regulatory thresholds for each pollutant indicator. https://sarasota.wateratlas.usf.edu/bay-conditions/
Creek Conditions reviews four indicators of nutrient pollution (chlorophyll-a, nitrogen, phosphorus, and dissolved oxygen) for Sarasota County's 17 tidal creeks. It provides a quick assessment of whether each creek is meeting its management targets and regulatory thresholds for each pollutant indicator. https://sarasota.wateratlas.usf.edu/creek-conditions/
Water Quality Trends presents short- and long-term trends for 17 water quality parameters. A map display allows users to quickly view statistical results of a 10-year trend analysis for each parameter. https://sarasota.wateratlas.usf.edu/water-quality-trends/
Water Body Pages report water quality status and trends and provide access to scientific and management studies, historical information, and relevant news articles for priority water bodies.
Impaired Waters and TMDLs reports FDEP's comprehensive verified list of impaired waters and EPA TMDLs for water bodies in Sarasota County. https://sarasota.wateratlas.usf.edu/impaired/#impaired-waters-and-tmdls
News and Education Pages aggregate local water-related news and provide information about relevant topics like low impact design, watershed management, and seagrass. They also host the New College Oral History Project, which features student-produced videos of interviews with key individuals associated with Sarasota's water heritage.
Participation Pages focus on opportunities for the public to learn more about their waters and to engage in their protection and restoration.
Neighborhood Environmental Stewardship Team (NEST) Page features work by NEST to promote neighborhood involvement in water-related environmentally friendly projects.
Projects Catalog provides detailed information about projects designed to remove aquatic pollutants, including total nitrogen, total phosphorus, total suspended solids, dissolved oxygen, and bacteria.
Increased awareness and use of the Water Atlas is needed. Sarasota County provides some outreach about the Water Atlas. Sarasota Bay Estuary Program and CHNEP feature their respective Atlas websites in outreach materials and their Comprehensive Conservation and Management Plans.
Approach
Sarasota County and CHNEP should continue to support regular maintenance and updates to their respective Water Atlases. Opportunities for funding new features and information should be explored, as needed, with Sarasota County, CHNEP, and Water Atlas staff. Additional marketing to increase Water Atlas use will translate to increased public and policy-maker awareness, knowledge, and engagement with water quality issues in the Sarasota area (see Chapter 9.6 and Chapter 9.7).
Resources
Status
The Water Atlas is an ongoing, funded project that is updated regularly.
Performance Measure
For both the Sarasota County Water Atlas and the CHNEP Water Atlas:
Number of water resources hosted on the Water Atlas
Number of Water Atlas users
Number of page views.
Experts or Leads
Shawn Landry, Water Atlas Program Director; Jan Allyn, Water Atlas Web Content Manager; John Ryan, Interim Sarasota County Stormwater Environmental Utility Manager; Jennifer Hecker, CHNEP Director
Cost Estimate
$50,000-$100,000
Related Activities
Other Coordination and Collaboration Activities
[dipi_masonry_gallery images="405,894,447" columns="3" disabled_on="off|off|on" _builder_version="4.4.8" max_width="100%" max_width_tablet="50%" max_width_phone="65%" max_width_last_edited="on|desktop" module_alignment_tablet="center" module_alignment_phone="center"...