8.3 Support large-scale land conservation programs
Key Message: Conserving natural lands promotes natural cycling of nutrients through ecosystems, while providing a host of other community benefits. Currently, about 30% of Sarasota County lands have been protected by acquisition or conservation easement. Options for accelerating and diversifying funding for land conservation should be explored.
Importance
Conservation of natural lands provides natural storage, flow, and filtration of water, and promotes the natural cycling of nutrients through ecosystems. Concurrent benefits include protection of wildlife habitat, climate change mitigation through carbon sinks, improved air quality, recreational activities, and tourism opportunities. For example, a canopy cover of trees benefits human health and economic growth as well as water quality. The National Association of Realtors and the Urban Land Institute have shown that property values are higher within a one-mile walking distance to public green space (ULI 2018). Harnessing nature to store and clean stormwater is much less costly than building and maintaining stormwater infrastructure (see Chapter 6.2).
Overview
A variety of municipal, county, state, and federal governments, water management districts, and non-governmental entities own and manage local conservation lands. More than 110,000 acres, or about 30% of Sarasota County's land area, have been acquired and protected (Figure 8.3.1). The mosaic of conservation lands in Sarasota County include parks, preserves, reserves, refuges, forests, and private lands.
Figure 8.3.1. Managed conservation lands (acres) in Sarasota County include public and some privately-owned lands. Source: Florida Natural Areas Inventory. Florida Conservation Lands, updated March 2019.
Florida Forever, the state's signature conservation lands acquisition program, together with its predecessor Preservation 2000, has purchased more than 2.4 million acres of environmentally sensitive and recreational lands across the state since 1991. After reaching a peak of $610 million in 2006-07, Florida Forever funding dropped to zero in 2009-10. Since that time, the Florida Legislature has not allocated more than $100 million per year, despite a large backlog of priority lands facing development pressure. An amendment to the Florida Constitution increasing funding for Florida Forever passed in 2014 with 75% voter support. Despite this historic intervention and surging revenues from the documentary stamp tax that fuels the program, Florida Forever funding has not been increased.
Nevertheless, a historic land acquisition for the region was completed with Florida Forever funds in 2020 with the purchase of Orange Hammock Ranch in the City of North Port. Over the last two decades, Sarasota County Government, surrounding local municipalities, SWFWMD, Manasota Peace River Water Management Authority, CHNEP, and Conservation Foundation of the Gulf Coast worked to permanently protect Orange Hammock Ranch.
At 5,777 acres, Orange Hammock Ranch is the largest undeveloped land parcel in Sarasota County, with more than 200 wetlands, pine flatwoods, dry prairie and other scrub habitats, oak forests, and two large sloughs. This vast public land connects with 120,000+ acres of protected land, making it viable habitat for Florida black bear and Florida panther.
The Southwest Florida Water Management District (SWFWMD) has purchased more than 40,000 acres of land in Sarasota County for water resource protection and management. Other federal and state land protection programs include the U.S. Department of Agriculture National Resources Conservation Service, and Florida Forest Service Rural and Family Land Protection and Forest Legacy Programs. Area cities also support local recreational, ecological, conservation, and environmental parks — many located along waterfronts.
Sarasota County Government acquires conservation lands through its Environmentally Sensitive Lands Protection Program (ESLPP), approved by voter referendum in 1999 and renewed in 2005. ESLPP is financed through dedicated ad valorem property taxes of up to 0.25 mil. A significant portion of the revenue goes towards debt service and maintenance, leaving about 30% for new purchases. In partnership with SWFWMD and non-governmental organizations, the program has protected 35,000 acres, including 76.7 acres of urban parkland (Figure 8.3.2). About half is protected by conservation easement and half was acquired through fee-simple purchases. Private lands are often protected through conservation easements that place permanent restrictions on the use or development of the land.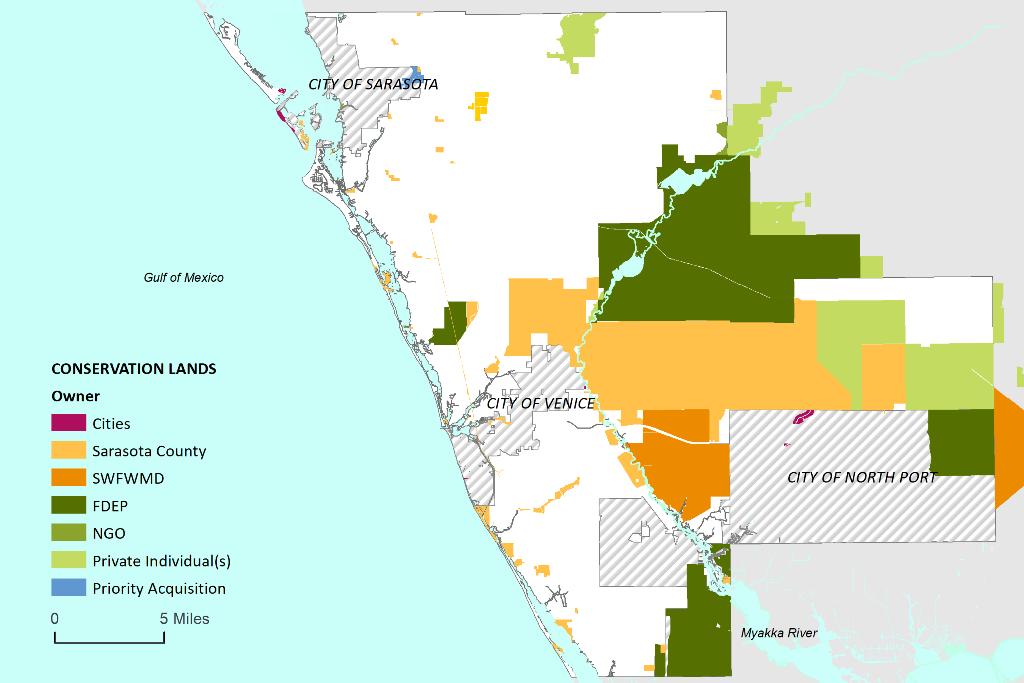 Figure 8.3.2. Conservation lands by owner in Sarasota County. Source: Florida Natural Areas Inventory
Currently, 30 properties are priorities for acquisition and protection between now and 2029, when the tax millage sunsets. It is unlikely that sufficient funds will be available to keep pace with increasing maintenance costs and to acquire all the priority parcels before they are developed. Properties that provide water quality benefits are a priority, including undeveloped portions of the Myakka River corridor, as well as large contiguous holdings.
Private non-profit organizations such as the Conservation Foundation of the Gulf Coast play an important role in land conservation projects. Since its founding in 2003, the Conservation Foundation has protected 46 properties totaling 17,928 acres by identifying needs, opportunities, and community partners, then facilitating complex and creative land conservation solutions with landowners, businesses, philanthropists, and government. Conservation Foundation was instrumental in facilitating the state acquisition of Orange Hammock Ranch in 2020. Florida Forever provided $19.5 million and Conservation Foundation contributed an additional $1.5 million in funds raised from the community, for a total purchase price of $21 million.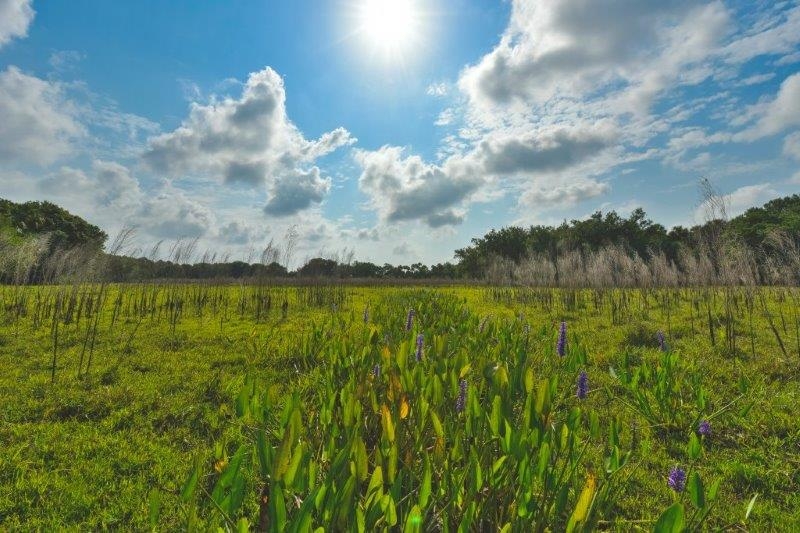 Orange Hammock Ranch. Source: Conservation Foundation of the Gulf Coast
Conservation Foundation is also involved in two community conservation projects on property currently owned by government agencies.
Bobby Jones Golf Club in the City of Sarasota. In September 2019, the Sarasota City Commission decided to downsize the 300+ acre golf course from 45 holes to 27 and devote 130 acres to environmental park space. Conservation Foundation is facilitating a public process to consider restoring natural habitats including portions of Phillippi Creek as well as placing a conservation easement over the entire property to protect it in perpetuity. A Bobby Jones Golf Club Preserve would be an important recreational asset for the community, while protecting air and water quality in an area with limited green space.
Quad parcels adjacent to the Celery Fields in Sarasota County. In November 2019, the Sarasota County Commission directed staff to (1) negotiate a conservation easement with Conservation Foundation on three of the four parcels, and (2) work with Sarasota Audubon and Conservation Foundation to restore habitat. The conservation easement will prevent future development, sub-division, and environmental impact. The restoration will improve wildlife habitat, provide public passive recreation, improve water quality in the retention pond and the canal adjacent to the properties. It also will protect air quality by planting trees.
Approach
A variety of options are available to increase the longevity and impact of land acquisition and management programs.
Support, fund and collaborate on current local land acquisition priority opportunities, including, Myakka Island Conservation Corridor, and Bobby Jones Golf Club Conservation Easement (see Chapter 9.3).
Continue public-private partnerships with land trusts like Conservation Foundation of the Gulf Coast to broker opportunities to conserve land and ensure public open space remains accessible.
Conduct a referendum campaign to extend the ESLPP beyond its scheduled termination in 2029, expanding funding for less pristine lands appropriate for restoration and increasing funding for land management.
Consider allocating Tourism Development Tax revenue to acquire and manage natural lands for recreation and nature tourism.
Consider user fees to support maintenance of heavily used parks and lands. For example, Pinellas, Charlotte, Lee, and Collier Counties all charge for parking at beaches, boat ramps, and water access parks. Rates range from $0.75 (Charlotte) to $2 (Lee) per hour, or $5 (Pinellas) per day. In Collier County, residents pay for beach parking permits in their property taxes, and visitors are charged an $8 parking fee at the county's beach parking facilities.
Support more opportunities to highlight conservation easement successes, as easements are less costly to acquire and maintain. Target education about conservation easements to large landowners who might be receptive to them as an alternative to selling their land.
Resources
Status
Implementation
Performance Measure
Acres of land conserved
Experts or Leads
Brie Ondercin, Sarasota County Environmentally Sensitive Lands Acquisition Program; Christine Johnson, Conservation Foundation of the Gulf Coast
Cost Estimate
$1,000,000+
Related Activities
Other Habitat and Wildlife Activities
[dipi_masonry_gallery images="408,545,446" columns="3" disabled_on="off|off|on" _builder_version="4.4.8" max_width="100%" max_width_tablet="50%" max_width_phone="65%" max_width_last_edited="on|desktop" module_alignment_tablet="center" module_alignment_phone="center"...