4.4 Deliver targeted education and resources to HOAs
Key Message: Lawn care standards imposed in deed-restricted communities can conribute to excess fertilizer use and water pollution. Educating Homeowner Associations about Florida-friendly landscape practices is an efficient way to maximize environmental benefits with limited educational resources.
Importance
Florida's growing population of newcomers often are unfamiliar with appropriate horticulture practices in their adopted state. Many bring with them landscaping customs and expectations that are a poor fit here, exacerbated by deed restrictions that may be contrary to best practices for Florida-adapted landscapes. For example, Homeowner Associations (HOAs) may require residents to maintain turfgrass to water's edge, instead of promoting a fertilizer-free natural fringe along ponds, lakes or bays. Ongoing education is needed about the value of native and Florida-Friendly landscapes that require less work, fertilizer, and irrigation to maintain.
Because HOAs typically manage large common areas and often mandate plant palettes and maintenance standards in individual yards, targeted outreach to them can influence management practices on a broad scale. A Board of Directors or Community Association Manager can adopt best management practices (BMPs) on behalf of all homeowners. Additionally, focusing limited educational resources and personnel on engaging with HOAs is more efficient and effective than responding to inquiries from individual homeowners. Improving landscaping and fertilizer application practices in deed-restricted communities can help reduce nutrient input to local waterways.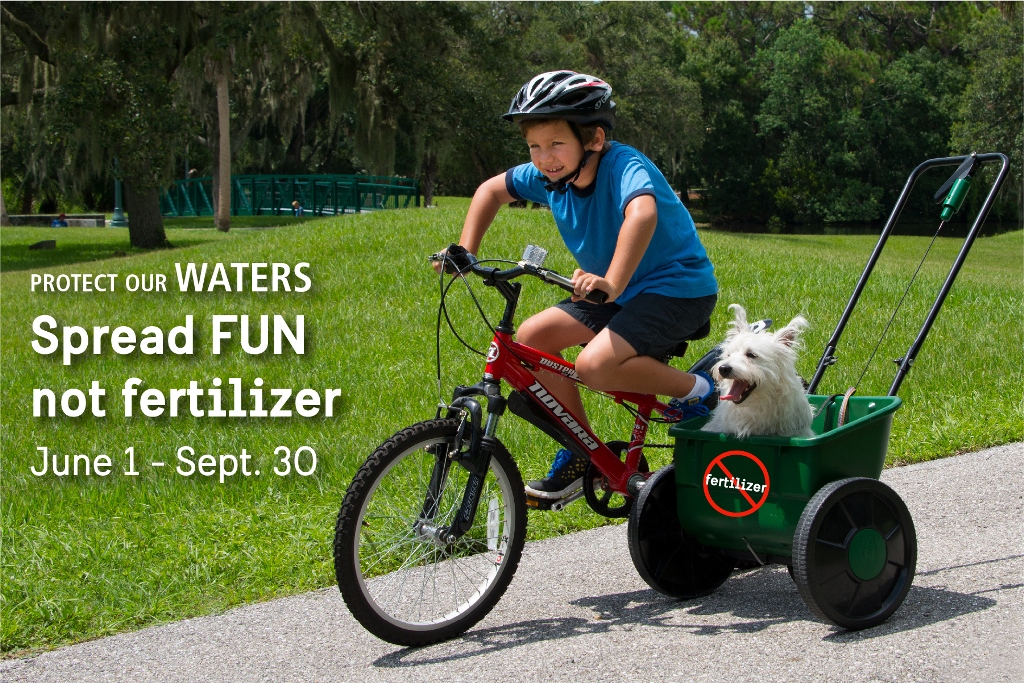 Educational outreach to homeowners via social media is an effective way to reach new residents who may be unfamiliar with local ordinances and Florida-adapted landscapes. Source: Science and Environment Council of Southwest Florida
Overview
As of 2019, there are 295 unique HOAs registered with the Sarasota County Neighborhood Services program. Neighborhoods share information within the Council of Neighborhood Associations (CONA), Coalition of City Neighborhood Associations (CCNA), and other networks. Some are legally organized under a Master Association, such as the 32 subdivisions governed by the Palmer Ranch Master Association. Most new neighborhoods in eastern and southern Sarasota County feature multiple new homes built in rapid succession, following a common landscaping plan. Furthermore, developers commonly turn over management and maintenance responsibilities to homeowners after a majority of homes are sold. These networks and decision-making bodies provide good opportunities for efficient and effective education and outreach about Florida-adapted landscaping.
HOA landscaping guidelines and practices vary widely and are often carried over automatically from a previous manager or a contracted landscaping company. A lack of familiarity with locally adapted plants, historical ecosystem function, the nutrient content of reclaimed water used for irrigation, or basic stormwater management can lead to excessive use and runoff of fertilizers, chemicals, and irrigation water.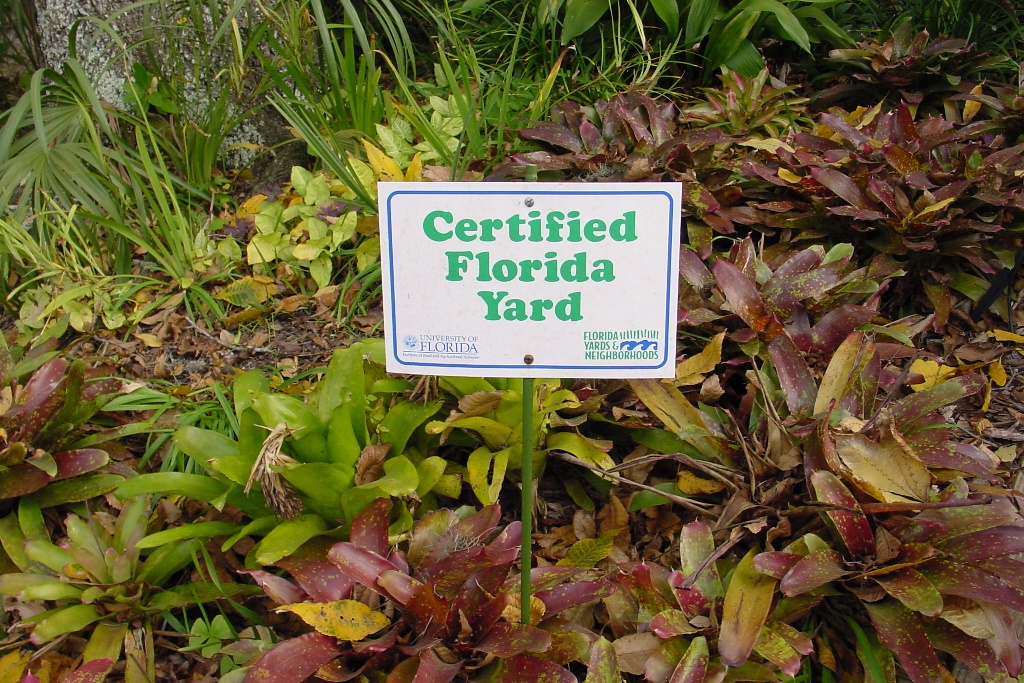 Ongoing education is needed about the value of native and Florida-Friendly landscapes that require less work, fertilizer, and irrigation to maintain. Source: Sarasota Bay Estuary Program
Sarasota County Government, Sarasota Bay Estuary Program, UF/IFAS Extension Sarasota County, Florida House Institute, Science and Environment Council, Lakewatch Program, and various consulting businesses provide educational materials, classes, and on-site assistance to homeowners and HOAs regarding landscape, stormwater pond, and waterway BMPs (see Chapter 7). The UF/IFAS Florida-Friendly Landscaping™ program targets HOAs, homeowners, and builder/developers, while the Green Industries Best Management Practices (GI-BMP) program targets commercial landscapers (see Chapter 4.5). The Florida-Friendly Landscaping™ program is implemented statewide and offers a suite of resources, classes, and trainings organized around nine FFL principles.
The nine Florida-Friendly Landscaping™ principles are a science-based approach to maintaining attractive landscapes while reducing water, fertilizer, and pesticide use.
Right Plant, Right Place
Water Efficiently
Fertilize Appropriately
Mulch
Attract Wildlife
Manage Yard Pests Responsibly
Recycle Yard Waste
Reduce Stormwater Runoff
Approach
Connecting landscape BMPs to the health of their families, their favorite birds and fish, or even to their bank accounts, helps incentivize homeowners' landscaping choices. Providing brief "field experiences" like participating in native plant installation, water quality testing, or tours of best practices implemented in the neighborhood can increase learning and BMP adoption (see Chapter 7). Creating and distributing a comprehensive homeowner manual that synthesizes nutrient management by providing BMPs and cost-benefits for all possible reduction strategies together may be a more effective strategy than addressing each source (fertilizer, pet waste, atmospheric deposition, or wastewater) in isolation (see Chapter 7.1).
BMPs could include alternatives to synthetic fertilizers, such as compost and organic fertilizers (see Chapter 4.7) and turfgrass alternatives that need less irrigation and fertilizer. For example, groundcover plants like perennial peanut and sunshine mimosa can "fix" their own nitrogen from nitrogen gas in the atmosphere, eliminating the need for fertilizer; they also need much less water than turfgrass.
Many residents are unaware of proper fertilizer use, or even what practices are employed by their landscape companies. Creating and promoting model language about fertilizer BMPs for adoption in HOA bylaws and landscape vendor contracts could increase compliance with the fertilizer ordinance and with fertilizer application rates that reflect nutrient content in reclaimed water used for irrigation (see Chapter 1.2). Pinellas County provides a map of areas where reclaimed water is utilized with recommendations for compensatory fertilizer application rates (Figure 4.4.1).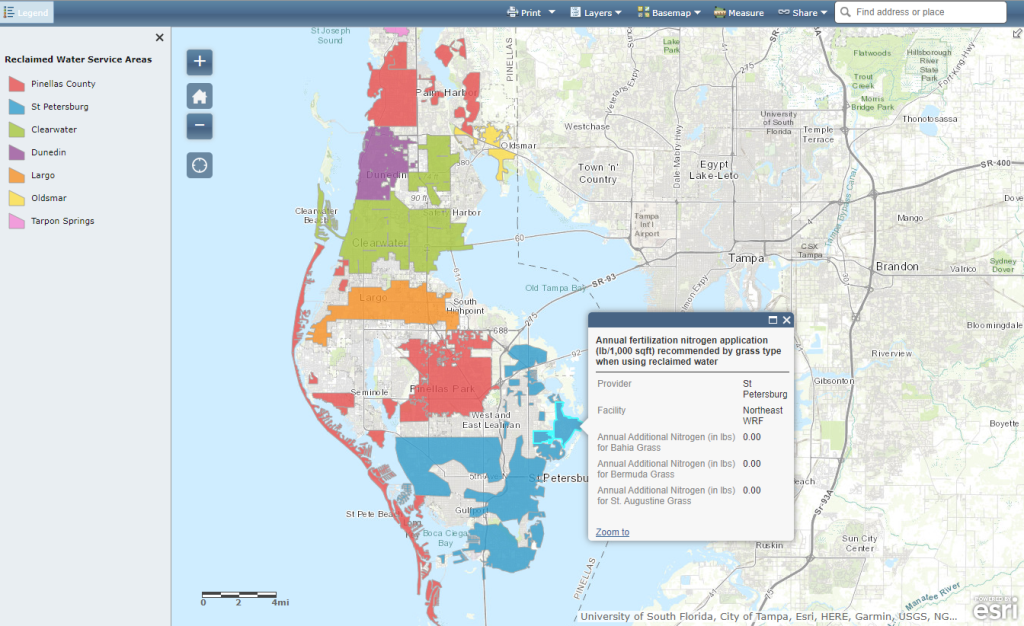 Figure 4.4.1. Pinellas County Utilities online map of reclaimed water service areas for customers to calculate fertilizer application rates when irrigating with reclaimed water. Source: Pinellas County utilities
Model language for fertilizer management can serve as an educational tool for HOAs and homeowners, in addition to providing them leverage to advocate for environmentally friendly, less expensive options. For example, Palmer Ranch Master Association recently completed a template for subdivision associations within Palmer Ranch to use in negotiations with landscape management companies. Promoting coordination between landscaping and stormwater pond management companies can further reduce fertilizer and irrigation needs and eliminate conflicting management practices.
Resources
Status
Implementation (Sarasota County Government, SBEP, UF/IFAS Extension Sarasota County)
Performance Measure
Comprehensive BMP manual for nutrient management in HOAs
Increased number of HOAs engaged with organizations providing education and implementation
Increased funding and programming for HOA nutrient reduction education and implementation
Public templates available for landscape vendor contracts or HOA stormwater master plans that integrate nutrient reduction language
Experts or Leads
Mollie Holland, Sarasota County Neighborhood Environmental Stewardship Team (NEST); Abbey Tyrna UF/IFAS Extension Sarasota County; Darcy Young, SBEP; Russ Hoffman, Beautiful Ponds; Sean Patton, Stocking Savvy; Steve Suau, Progressive Water Resources; Nicole Iadevaia, CHNEP.
Cost Estimate
$50,000-$100,000
Related Activities
Chapter 1.2, Chapter 4.5, Chapter 4.7, Chapter 7.1
Other Fertilizer & Soil Activities
[dipi_masonry_gallery images="421,545,445" columns="3" disabled_on="off|off|on" _builder_version="4.4.8" max_width="100%" max_width_tablet="50%" max_width_phone="65%" max_width_last_edited="on|desktop" module_alignment_tablet="center" module_alignment_phone="center"...