7.3 Support recognition or leadership programs for homeowners, HOAs, and businesses adopting, funding, and promoting green infrastructure improvements
Key Message: Recognition programs can motivate and engage citizens to protect their local waters, and drive community momemtum for positive change. One or more existing award programs could be adapted to highlight community-led water quality projects and innovations.
Importance
Recognition programs increase motivation, engagement, and productivity in a variety of settings by introducing elements of competition and prestige. They can inspire creativity, foster cohesion to achieve common goals, and highlight the importance of individual actions toward collective sustainability. Recognition programs also improve networking, celebrate success, and drive momentum for water quality improvement projects.
Overview
The UF/IFAS Extension Florida Yards & Neighborhoods program recognizes homeowners who use environmentally friendly gardening and landscaping practices. Florida-Friendly Yards minimize water use, reduce fertilizer and pesticide runoff, and provide wildlife habitats. The program has a designation for new developments that implement Florida-Friendly Landscaping™ principles and pass a two-year follow up inspection. It also recognizes existing communities that incorporate a checklist of best management practices (BMPs) into their landscape management.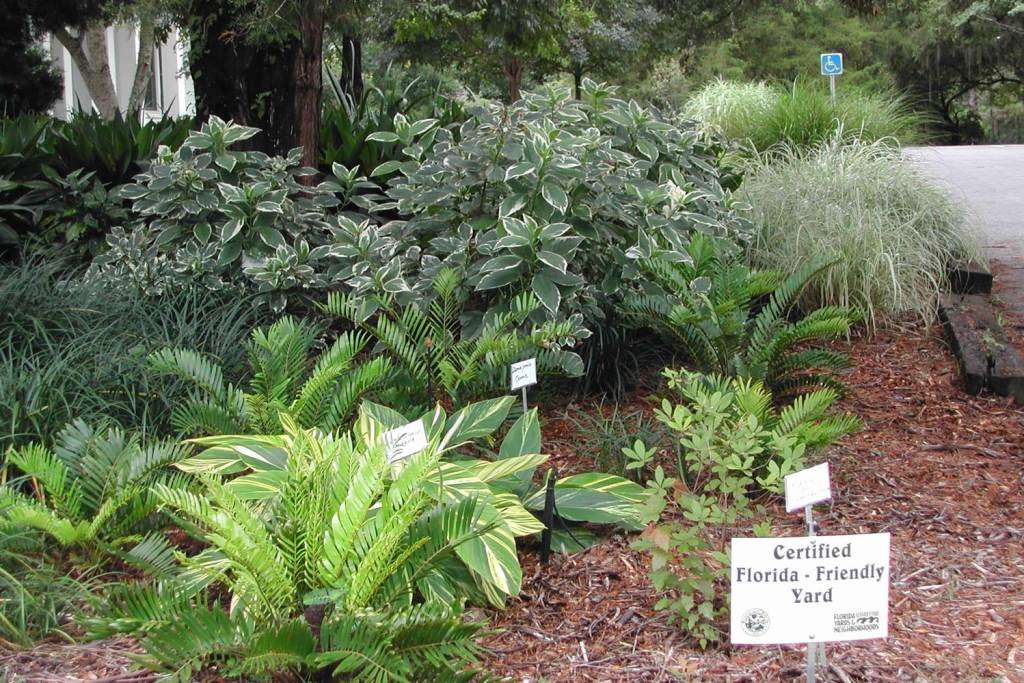 Florida-Friendly Yards minimize water use, reduce fertilizer and pesticide runoff, and provide wildlife habitats. Source: UF/IFAS
The Sarasota Bay Estuary Program's Blue Dolphin Award recognizes local educators, scientists, natural resource managers, nonprofits, schools, businesses, and citizens taking action to protect and restore Sarasota Bay. The program includes an awards presentation and other public recognition. Although recently on hiatus, the program is scheduled to resume in 2020. 
The Florida Green Building Coalition has a statewide Green Development designation for developments that meet a checklist of criteria including land conservation, wetland protection, wildlife corridors, aquifer recharge, Low Impact Development (LID), stormwater treatment, and water conservation. 
Sarasota County Government's Green Business Partnership recognizes reduction, reuse, and conservation in management of solid waste and energy and water consumption. Participating businesses receive an official logo and certificate, listing in the Green Business Partnership directory on the County's website, international green map listing, a free waste assessment and energy audit, media exposure, community recognition, and networking opportunities.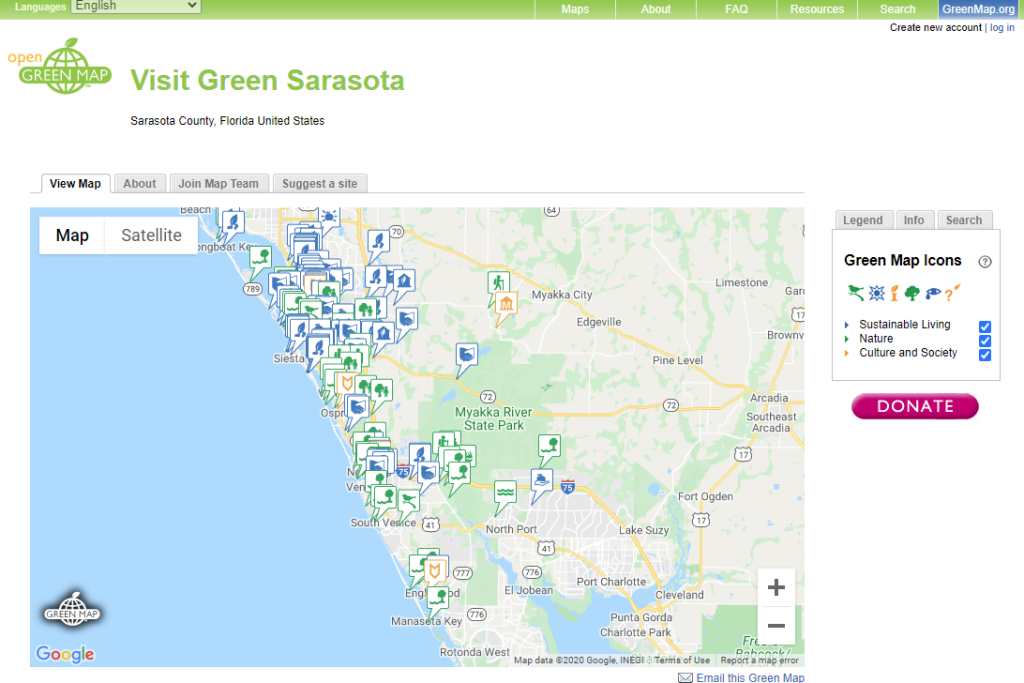 The Green Map highlights businesses and locations that practice sustainability and is a perk for all Sarasota County Green Business Partners. Source: Sarasota County Government
The Florida Native Plant Society presents awards for outstanding native plant landscapes for residential, commercial, institutional, transportation, restoration, and mitigation projects, as well as wildflower/butterfly gardens.
Approach
One or more existing recognition programs could be adapted to highlight outstanding environmental water quality projects and innovations, perhaps associated with SBEP Bay Partner, CHNEP, NEST, or UF/IFAS Extension Sarasota County Water Steward projects (see Chapter 7.2).
Key aspects could include a substantial reward and publicity. Social media, web, and press content could promote the awardee and the recognition program. The program could also utilize an app or story map (e.g., the Sarasota County Green Map) to list and locate the winning projects, businesses, and neighborhoods (see Chapter 7.4).
Program criteria that reward projects for linking environmental, neighborhood and economic health can encourage non-traditional groups to participate. Criteria also can promote projects within underrepresented and resource-limited communities. A program that supports and rewards parties who connect and cooperate across community sectors encourages dynamic teamwork and elevates performance.
Resources
Status
Implementation – Sarasota County Government, SBEP, UF/IFAS Extension Sarasota County
Performance Measures
Number of projects/applicants
Number of media mentions
Experts or Leads
Randy Penn, UF/IFAS Extension Sarasota County; Darcy Young, Sarasota Bay Estuary Program; Wilma Holley, UF/IFAS Extension Sarasota County; Allen Garner, UF/IFAS Extension Manatee County and committee chair of FGBC Development Designation Standard Committee
Cost Estimate
$10,000-$50,000
Related Activities
Other Stormwater Improvement Activities
[dipi_masonry_gallery images="418,896,446" columns="3" disabled_on="off|off|on" _builder_version="4.4.8" max_width="100%" max_width_tablet="50%" max_width_phone="65%" max_width_last_edited="on|desktop" module_alignment_tablet="center" module_alignment_phone="center"...