4.7 Encourage and facilitate commercial composting and redistribution for rebuilding soils
Key Message: State law mandates that Sarasota and other large counties recycle 75% of their waste stream. Composting of yard waste contributes to that goal, but food waste is not collected or composted at large-scale. Conflicting interpretations of food waste management within county codes should be resolved to facilitate recovery and recycling of organic waste as a source of clean energy, an alternative to synthetic fertilizers, and a small-business opportunity.
Importance
Policies that encourage and facilitate neighborhood and commercial composting for rebuilding soils are a priority that can fundamentally shift urban and agricultural nutrient management. Composting can also reduce organic waste including yard trimmings, food waste, and potentially wastewater biosolids that otherwise take up space in landfills (see Chapter 3.2). When applied with key mineral nutrients as an alternative to synthetic fertilizers, compost provides organic material and microbial communities that regenerate natural carbon and nutrient storage, processing capacity, and productivity of soils. Compost significantly enhances water-holding capacity that increases drought resistance and reduces water runoff, soil erosion, nutrient leaching, and pesticide loading to water bodies. In contrast, application of synthetic nitrogen fertilizers reduces long-term soil productivity by depleting organic carbon and reducing soil capacity to fix nitrogen. 
Increased diversion and recovery of organics from the waste stream contributes to Sarasota County Government's vision for sustainable and integrated waste management. It also moves the county closer to compliance with 2008 state legislation that sets a 2020 goal for larger counties like Sarasota to recycle 75% of the waste stream. Food and yard waste are valuable commodities that provide multiple environmental and economic benefits when converted to compost.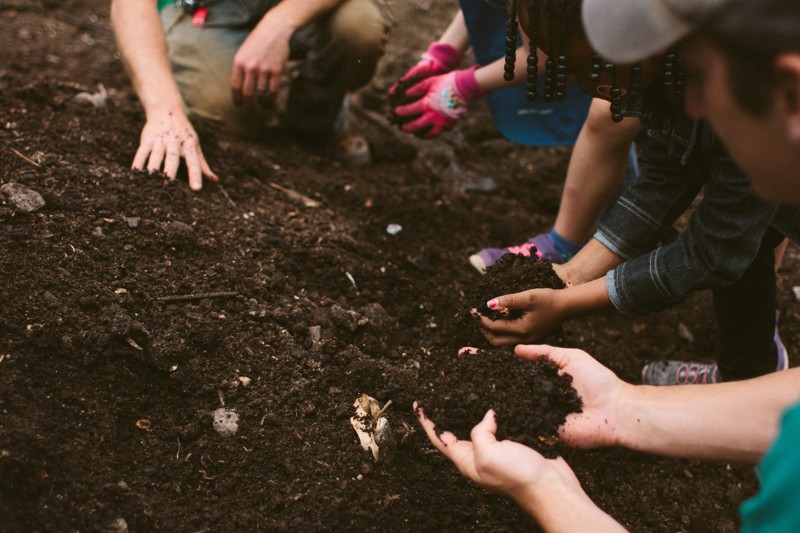 Compost is a valuable commodity with multiple environmental and social benefits. Source: Jenna Mobley
Overview
Large-scale commercial composting facilities are regulated by the Florida Department of Environmental Protection (FDEP), with important conditional exemptions for medium- and small-scale backyard composting, farming operations, and land applications. There are several regional examples of large-scale FDEP permitted waste-to-compost bioprocessing facilities. In Orlando, Harvest Power processes Disney's food waste into methane power, fertilizer, and reclaimed water. In Punta Gorda, Synagro processes yard waste and wastewater biosolids into compost (see Chapter 3.2). A similar process is used at the Lee/Hendry Compost Production Facility. Sarasota County Government's Solid Waste Master Plan suggests establishing a privately owned and operated Mixed Waste Recovery Facility (MRF) by 2021 to pull additional wet/dry recyclables from the waste stream. Separated organics would be composted in an anaerobic digester tied to the landfill gas-to-energy facility to help meet Sarasota County Government's recycling goals. However, the county currently has no plans to build an MRF.
Yard waste is collected and recycled in Sarasota County, but food waste is not. Mandatory recycling ordinances in the unincorporated County as well as the cities of North Port, Sarasota, and Venice all require separation, collection, and mulching of yard waste from all residential and commercial properties. Meanwhile, a 2011 study found that food waste (34,500 tons) and compostable paper (20,721 tons), comprise 15% of the County Government's total landfilled material (HDR 2016). Although recovery and composting of food waste presents an opportunity, county staff state that food waste must be landfilled in order to meet contractual and financial obligations with the current landfill gas-to-energy program. Those obligations require collection and sale of the methane produced by the anaerobic decomposition of landfilled organics. The scale of this commitment and the potential impact of composting food waste on the gas-to-energy program are unclear. Further analysis and discussion with Sarasota County's Solid Waste department would be valuable.
Furthermore, there appear to be conflicting definitions of food waste and differing interpretations of how it should be managed in County codes and ordinances. For example, a Sarasota County ordinance defines food waste as a type of Commercial Waste that must be handled by the Government's Franchisee. However, food waste is also defined as a Recyclable Material, and Recyclable Materials are Exempted Materials, which are explicitly "exempt from the mandatory provisions of this Ordinance and may be collected and delivered for disposal or Processing at the authorized Designated Site(s) by … the owner's or occupant's representative…" (Sec. 106-41I).
While disposal of Commercial Waste generally must be contracted with the Government's designated Franchisee, "…Property owners or occupants may also jointly enter into mutual agreements with any authorized Hauler of Recyclable Materials." (Sec. 106-47(a)(12)). The County Code definition of a Hauler includes a Franchisee, a Private Hauler, a Commercial Lawn Care Service, and a Disaster Debris Hauler. So, food waste intended for composting could be hauled by private commercial companies under a similar exemption as landscape waste haulers if Sarasota County Government reconsidered its interpretation of the code. The roadblock to private commercial composting, therefore, may not be in the hauling, but rather in the interpretation that food waste can only be delivered for processing at a Board of County Commissioners "Designated Site." Currently, no sites have been designated by Sarasota County Government for the receipt and processing of food waste into compost.
In the City of Sarasota, a recent reinterpretation of the code has opened opportunity for private commercial composting. Food waste is now considered "Recyclable Material," and a new program will allow commercial customers to contract with any City-registered hauler to deliver food waste to an FDEP permitted/registered compost facility or farm site. The only local FDEP permitted/registered food waste compost facility is One Stop Landscape Supply in Manatee County.
The cost of compost varies according to scale and application. At the individual or neighborhood scale, where local volunteers use local yard trimmings, food waste and, potentially, manure, the cost of producing compost is minimal. For example, the Gillespie Park, Arlington Park, and North Water Tower Park neighborhoods in the City of Sarasota compost with assistance from Sunshine Community Compost, a local non-profit organization. For large quantities, the cost of compost sold commercially at retail outlets is typically $20-$50 per cubic yard (Mother Earth News 2019). Application of compost to lawn and landscaped areas is typically 15%-50% more costly than synthetic fertilizer, but homeowners would save money from reduced irrigation needs and less frequent applications as soil health improves.
Approach
Sarasota County Government could support the establishment and growth of private commercial food waste composting operations at all scales by reinterpreting its code with respect to authorized haulers and by authorizing designated sites to receive and process compost. Since FDEP already has a regulatory framework for compost facilities, the Board of County Commissioners could decide to simply designate any FDEP permitted/registered Compost Processing Facilities or explicitly exempt sites (as per F.A.C. 62-706.305) as "authorized Designated Site(s)" under County code.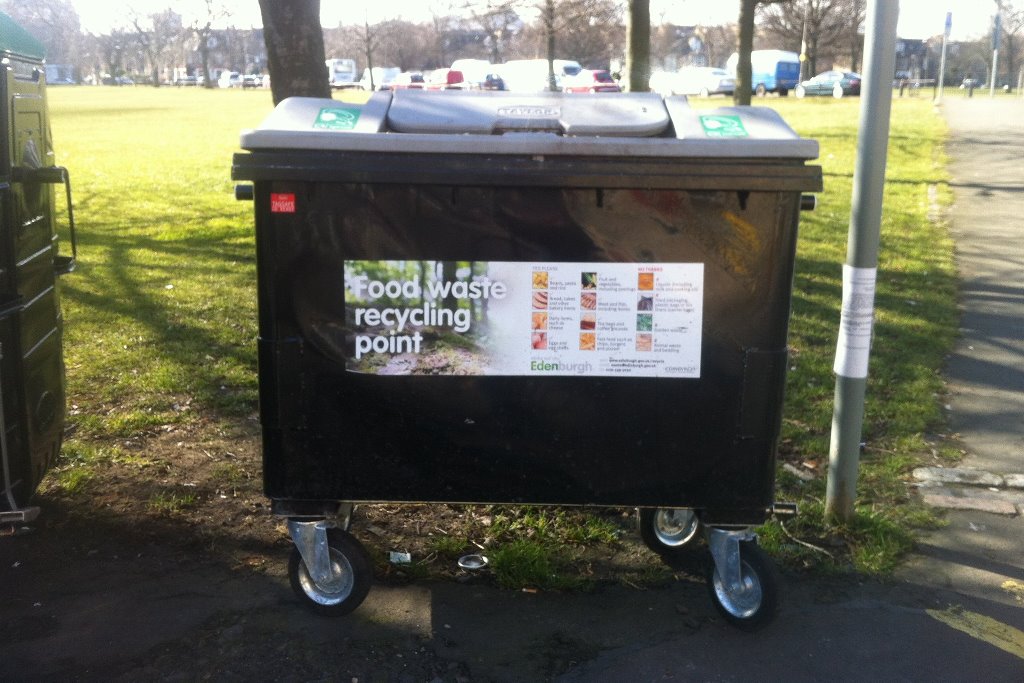 Commercial and neighborhood scale collection, hauling, processing, and distribution could be the basis for new small-business development. Source: Greener Leith
Small business entrepreneurs guided by best practices could establish sites and test the market for hauling commercial vegetative food waste to processing sites and redistributing bulk commercial compost to residential, commercial, and agricultural customers. With an available local supply of compost, organizations such as UF/IFAS Extension Sarasota County, Sunshine Community Compost, Transition Sarasota, Florida House Institute, Science and Environment Council, and local farm and garden stores could promote the use of compost as a beneficial alternative to synthetic fertilizer, with tremendous co-benefits for regenerating healthy productive soils and sequestering carbon to mitigate climate change.
Resources
Status
Planning (City of Sarasota); No Activity (Sarasota County Government and other municipalities)
Performance Measure
Removal of policy barriers for private entities to engage in commercial composting
County-wide promotion of commercially available compost as an alternative to synthetic fertilizer
Experts or Leads
Brian Usher, Sarasota County Solid Waste Collections Manager; Randy Penn, UF/IFAS Extension Sarasota County; Stevie Freeman Montes, City of Sarasota Government; Tracie Troxler, Sunshine Community Compost; Gloria-Jean De Pradine, FDEP; Brenda Platt, Institute for Local Self Reliance
Cost Estimate
$10,000 – $50,000
Related Activities
Other Fertilizer & Soil Activities
[dipi_masonry_gallery images="421,545,445" columns="3" disabled_on="off|off|on" _builder_version="4.4.8" max_width="100%" max_width_tablet="50%" max_width_phone="65%" max_width_last_edited="on|desktop" module_alignment_tablet="center" module_alignment_phone="center"...