9.3 Inventory, develop, and coordinate grant funding
Key Message: Intergovernmental coordination to identify, secure and manage grant funds for water quality projects can lead to economies of scale and faster results. This is especially important for municipalities working with Sarasota County Government and SWFWMD to implement water infrastructure projects. A dedicated grants specialist affiliated with either the National Estuary Programs or the Gulf Coast Community Foundation could provide a cohesive and coordinated regional approach.
Importance
Activities to protect and restore water quality require funding. Estimated costs of implementing activities in this Playbook range from thousands to millions of dollars. Developing and coordinating funding across public and private sectors is essential, given the significant resources and collaboration needed to address nutrient management holistically (see Chapter 9.2).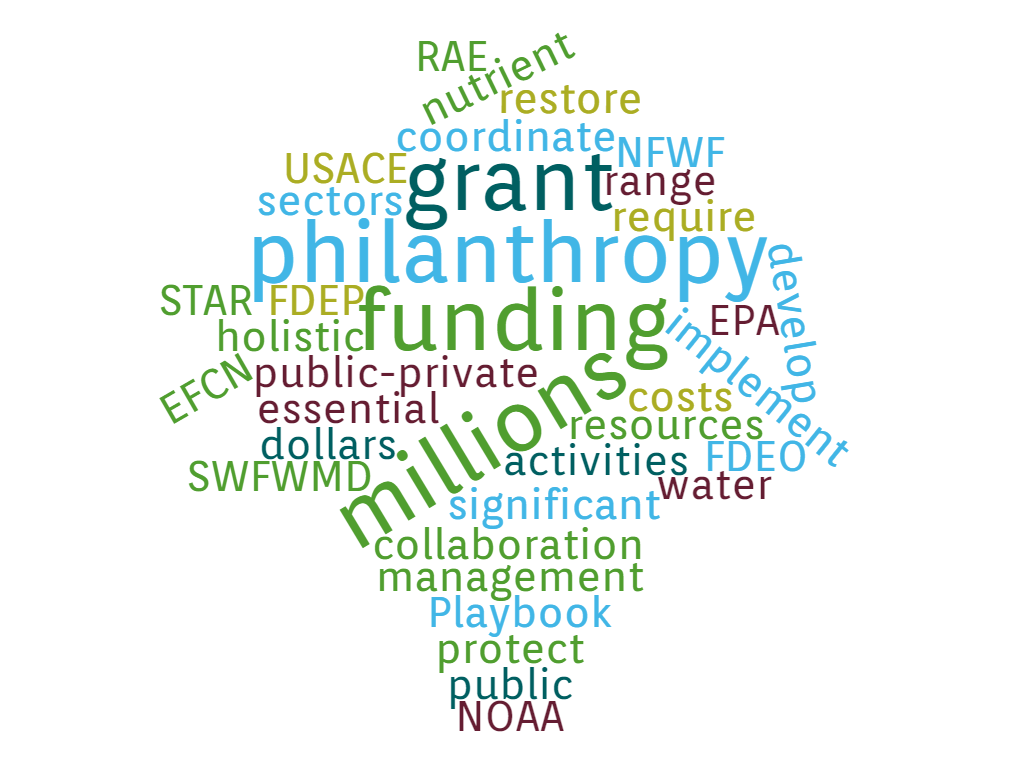 Overview
Grant and financing opportunities are available from federal, state, and local entities for large infrastructure and restoration projects. Most grants require cost-sharing, and many are available to 501(c)3 non-profit organizations. Community-based non-governmental organizations (NGOs) seeking to implement smaller-scale environmental projects typically seek funding from private philanthropic organizations and government small-grant programs.
Grant & Financing Opportunities
U.S. Environmental Protection Agency (EPA) administers the Water Infrastructure Finance and Innovation Act (WIFIA) program, a federal program for large water and wastewater infrastructure projects. WIFIA finances up to 49% of projects that cost at least $20 million. A wide variety of water projects are eligible, including stormwater, wastewater, reclaimed water, National Estuary Program, and watershed projects.
EPA Office of Research and Development funds innovative research under the Science to Achieve Results Program. For example, the 2019 solicitation sought research projects to: (1) determine the effectiveness of existing nutrient treatment technologies; (2) evaluate the scale-up of emerging nutrient treatment technologies and develop new technologies; and (3) develop best management practices (BMPs) to help both rural and urban communities control nutrients in their watersheds. Approximately six projects up to $1 million with no cost-share requirements will be awarded, with preference for projects that address harmful algal blooms in Florida.
Restore America's Estuaries Coastal Watershed Grant Program funds projects within the 28 NEP watershed geographic areas that address urgent and challenging issues threatening the well-being of coastal and estuarine areas. RAE expects to award $4 million over 4 years (2020-2024) with individual grants ranging from $75,000-$250,000.
The National Coastal Resilience Fund administered through the National Oceanic and Atmospheric Administration (NOAA) and National Fish and Wildlife Federation (NFWF) invests in conservation projects that restore or expand the ability of natural systems to minimize the impacts of storms and other naturally occurring events on nearby communities. The fund expects to award $30 million in 2020.
U.S. Army Corps of Engineers (USACE) provides cost-share assistance with planning, designing, and constructing environmental restoration projects up to $10 million, especially for improvement of aquatic, estuarine and floodplain systems. Requests for assistance by state or local government agencies are considered following submission of a Letter of Intent to the Planning Division of USACE.
Florida Department of Environmental Protection (FDEP) Division of Water Restoration Assistance provides loans and grants to local governments, utilities, and sometimes other agencies for water quality and quantity projects that significantly benefit the environment and local communities. Division staff also manage water-related projects approved by the Florida Legislature. Among WRA funding programs:
The Clean Water State Revolving Fund provides low-interest loans to local governments to plan, design, and build or upgrade wastewater, stormwater, and nonpoint source pollution prevention projects. Certain agricultural best management practices may also qualify for funding. The loan terms include a 20-year amortization and low-interest rates.
The Nonpoint Source Fund supports projects that control water pollution from nonpoint sources. Funding for the following two grant programs depends on Federal and state appropriations but is usually around $8–$9 million per year.

Florida's Section 319 Grant Program administers funds received through EPA's Clean Water Act Section 319(h) for nonpoint source pollution projects or programs that benefit Florida's priority watersheds (impaired waters). Local sponsors must provide at least a 40% match or in-kind contribution. Eligible activities include demonstration and evaluation of urban and agricultural stormwater best management practices, stormwater retrofits, and public education.
Funding for State Water-quality Assistance Grants may be available through periodic legislative appropriations to the DEP. When funds are available, the program prioritizes stormwater construction projects to benefit impaired waters.

In the 2020 legislative session, Governor DeSantis secured dedicated funding to reach a goal of $2.5 billion over four years for water and natural resource protection. Funds will be administered by FDEP across ten water protection grant programs.
Florida Department of Environmental Protection (FDEP) Office of Ecosystem Projects plans to fund selected proposals in 2020 from government entities for innovative technology to prevent, detect, clean up, or otherwise address harmful algal blooms. Projects could include new monitoring, detection, and cleanup technologies for blue-green algal blooms and techniques for bloom prevention and hydrologic restoration.
Florida Department of Economic Opportunity (FDEO) administers the Small Cities Community Development Block Grant (CDBG) Program. Funds are available annually for water and sewer projects that benefit low- and moderate-income residents. Funds also may be available for water and sewer projects that serve a specific "job-creating entity" if the majority of jobs are for people with low or moderate incomes. FDEO also receives legislatively appropriated funds to provide Technical Assistance Grants to local governments and regional planning councils to assist in developing economic development strategies, meeting requirements of the Community Planning Act, addressing critical local planning issues, and promoting innovative planning solutions.
Southwest Florida Water Management District (SWFWMD) offers cost-share grants to local governments through its Cooperative Funding Initiative. The grants cover up to 50% of the cost for projects that create sustainable water resources, enhance conservation efforts, restore natural systems, and provide flood protection. SWFWMD also receives periodic legislative appropriations for Alternative Water Supply Development (AWSD) and Surface Water Improvement and Management (SWIM) projects for priority areas such as Sarasota Bay.
The Florida Legislature may solicit applications directly for Community Budget Issue Request projects, including water projects, in anticipation of upcoming legislative sessions. This process is an opportunity to secure legislative sponsorship of project funding through the state budget. The Legislature may coordinate applications with FDEP. In some years, the Legislature will not solicit projects but include select projects in the budget, nonetheless. The local legislative delegation can advise on whether there are opportunities available to fund water projects.  In 2020, Governor DeSantis secured dedicated funding to reach a goal of $2.5 billion over four years for water and natural resource protection to be administered by FDEP across ten grant programs.
The Federal State and Tribal Assistance Grant Program provides the opportunity to secure sponsorship of project funding, including water project funding, through the annual federal budget process. The program's stated purpose is to strengthen state, local government, and tribal capacity to address environmental and public health threats while furthering environmental compliance. Congressional Representatives or Senators aid in pursuing this funding.
Grant & Financing Information and Resources
Environmental Protection Agency (EPA) Water Infrastructure and Resiliency Finance Center provides financing information for wastewater and stormwater infrastructure, including resources for planning and design, frameworks for leveraging federal funding sources, and a searchable Water Finance Clearinghouse of case studies, webinars, and funding opportunities.
The Environmental Finance Center Network (EFCN) is a university-based organization assisting with innovative financing for environmental protection and improvement. EFCN works with public and private sectors to promote sustainable environmental solutions, while bolstering efforts to manage costs. Resources include curated funding sources, webinars, case studies, and technical and legal information.
The Florida Resource Directory hosted by the FDEO provides a searchable directory of information about and links to many state and federal resources available to help local communities fund water protection and restoration projects.
The Catalog of Federal Domestic Assistance provides a database of all federal programs available to state and local governments: public; quasi-public; private for-profit and nonprofit organizations and institutions; specialized groups; and individuals. Listings link directly to grants.gov.
Approach
Intergovernmental coordination, especially between municipalities working with Sarasota County Government and SWFWMD to plan and fund water infrastructure projects, could generate efficiencies, cost-savings, and faster outcomes for improved water quality.
Since most large funding opportunities are offered as low-cost financing or grants with cash match requirements, Sarasota County and/or the municipalities would be the most appropriate fiscal agents to receive and manage the funds. However, the complexity and workload of planning, coordinating, writing, and managing large grant applications requires new dedicated staff to make rapid progress.
OPTION 1: The National Estuary Programs already function as intergovernmental partnerships and have an existing role in project coordination. With knowledge of funding needs and the funding landscape, they are natural organizing hubs to assemble large infrastructure and restoration grants. A new dedicated grant writing specialist working within the SBEP or CHNEP offices could be supported by private funds.
OPTION 2: Gulf Coast Community Foundation could employ the new grants specialist and work closely with CHNEP and SBEP offices to coordinate regional government partners and philanthropic donors.
Resources
Status
Planning
Performance Measure
Number of new grants/funding
Amount of new grants/funding
Experts or Leads
Joe Kahn, Program Management Director, FDEP Division of Water Restoration Assistance
Cost Estimate
$50,000-$100,000
Related Activities
Other Coordination and Collaboration Activities
[dipi_masonry_gallery images="405,894,447" columns="3" disabled_on="off|off|on" _builder_version="4.4.8" max_width="100%" max_width_tablet="50%" max_width_phone="65%" max_width_last_edited="on|desktop" module_alignment_tablet="center" module_alignment_phone="center"...